STEM Programs
Augsburg STEM programs are designed to support undergraduate students who are pursuing careers in Science, Technology, Engineering, or Math. This can encompass a number of majors including physics, chemistry, biology, computer science, biopsychology, and mathematics. To maintain and enhance Augsburg's vital STEM community, this office provides students with opportunities to conduct research with faculty, attend and present at national conferences, and hear from leading researchers in these fields. The categories to the right highlight our STEM programs as well as the exciting research and community-building going on here at Augsburg.
Click HERE to subscribe to our STEM Events Newsletter.
Augsburg Internship Opportunities
The Great Lakes Career Ready Internship Program
Register for the SciTechsperience Paid Internship Program
Register for INROADS Paid Internship Program
Latest News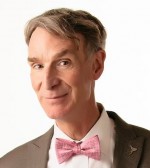 Bill Nye "The Science Guy" will share his love for science when he speaks February 14 at Augsburg College's Scholarship Weekend in an address that is open to the general public. Nye, who will talk about "How Science Can Save the World," will speak with academic depth and humor about planetary science, climate change, evolution, environmental awareness, and more.
Read more about Bill Nye and the 2015 Augsburg College Scholarship Weekend.