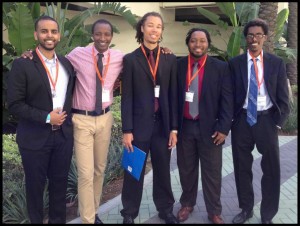 "This trip changed me because it reassured me that not all African Americans are what the media portrays them to be. This trip blew away the smoke screens made by the media of African Americans being shown as prisoners, drug dealers, gangsters, etc. This trip revealed that there are high numbers of African American students, engineers, researchers, and leaders. Although I believed that this was true, it was still a humbling experience to get my ideas reaffirmed. I will never forget this trip." -Augsburg student reflecting on the 2015 NSBE Conference

Preparing for travel:
North Star STEM Scholars are encouraged to travel to professional STEM conferences (not health-focused or clinically based) and can apply for financial support to help mitigate the cost of airfare, lodging, food and other expenses.
To apply for funds, students should contact the STEM office to discuss plans, then complete the form below.
Students upon their return will need to submit the Travel Expenditure Report and all itemized receipts within 2 weeks of completing travel. If there are any circumstances delaying your report, please notify STEM programs.