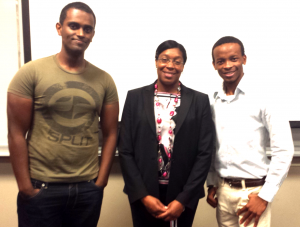 Dr. Dawn Eastmond, Director of Education and Recruitment from the Scipps Research Institute with Augsburg College Students Kirubel Gezehegn (Senior) and Promise Okeke (Junior)
Dr. Eastmond visited Augsburg College on Thursday, October 10, 2013 to recruit students for summer research and graduate school at Scripps Research Institute. Scripps has established a lengthy track record of major contributions to the betterment of health and the human condition. The institute has become internationally recognized for its research into immunology, molecular and cellular biology, chemistry, neurosciences, autoimmune diseases, cardiovascular diseases, virology, and synthetic vaccine development. It's an impressive place and the fact that Dr. Eastmond flew in just to spend the day at Augsburg is remarkable.  Dr. Dawn Eastmond met with about 20 students for lunch, visited Dr. Rebekah Dupont's Calculus Workshop, and met with TRIO/Student Support Services, Directors of Ethnic Student Services, STEM Programs, McNair, URGO and professors in biology (Dr. Matt Beckman), chemistry (Dr. Vivien Feng) and physics (Dr. David Murr and Dr. Ben Stottrup). Dr. Eastmond gave an evening presentation to around 40 students, all wide-eyed with excitement.
Kirubel Gezehegn applied and was accepted to the Scripps Summer Undergraduate Research Program for summer of 2013. He ended up doing research at Hopkins and MIT for the summer instead. Then, Promise Okeke was at the National Conference on Undergraduate Research in Wisconsin last April and visited Dr. Dawn Eastmond's table and invited her to Augsburg College.