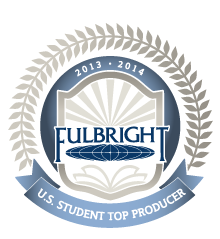 The U.S. Department of State recently announced the complete list of colleges and universities that produced the most 2013-2014 Fulbright U.S. Students. The Fulbright Program is the U.S. Government's flagship international educational exchange program. The success of the top-producing institutions is highlighted in the October 28 edition of The Chronicle of Higher Education.
Three of the four student applicants from Augsburg won Fulbright awards for 2013-2014. This is the 4th time that Augsburg is named Top Producer with 17 awardees since 2006.  Dixie Shafer, Director of URGO, said "the goal next year is to double the number of applicants."
Congratulations Augsburg for being named as a Top Producer of U.S. Fulbright Students!
The Fulbright Competition is administered at Augsburg through the Office of Undergraduate Research and Graduate Opportunity. For a complete list of Fulbright recipients, please visit www.fulbrightonline.org/us.