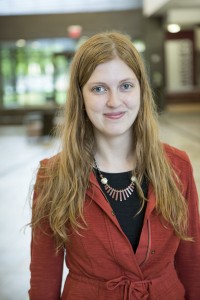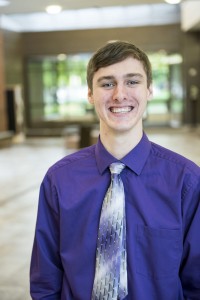 Augsburg is nearing a very important birthday: 2019 will mark our "sesquicentennial" or 150th year. To commemorate this event, history professor Phil Adamo is working on a book about the history of Augsburg with the help of undergraduate student researchers. Caitlin Crowley and Greg Lewis are two summer researchers involved with the project. Read on to hear about how they became history majors and what it's like to work as part of a humanities research team.
How did you decide to be a history major? What is your interest area within the field?
CC: I would like to say I decided to become a history major because I have always enjoyed history and I immediately was drawn to it. It didn't quite happen like that. I started at Augsburg as a transfer student and I had planned on majoring in English literature. I ended up becoming a history major after taking a class with Phil Adamo. I liked the class so much that first I decided to become a Medieval Studies major. Then, I switched to History after about a year. History classes have always been my favorite classes. I am still especially interested in ancient and medieval history, but after studying more modern history I am realizing I just love it all.
GL: I always knew that I would end up being a history major because I always loved the past, mainly because it is the greatest story ever. It has all of the fun that you could ever expect to see: romance, mystery, sci-fi to a degree, and of course stories of revenge. All in all I have always found it interesting. My favorite time period to study is ancient or medieval, because  I am consistently amazed at the revelations that those people came up with.
Describe your summer research project and how it fits into the larger History of Augsburg project as a whole.
CC: We are helping Phil research and write about objects related to Augsburg's history for the school's sesquicentennial (150 years). Each of us picks 1-2 topics a week to study, and our goal is to write about four pages per topic by Friday, when we get together and share what we've written with each other. The purpose of studying Augsburg's history in this way is to add interest…We want to write about things current students and future generations will really be interested in. It certainly makes researching more fun, at the very least.
GL: I am studying different aspects of Augsburg's history; ranging from Peter Agre's Nobel Prize to commuter students.
What's the most interesting Augsburg tidbit, fact or story you've learned so far?
CC:  Augsburg used to forbid dancing. Basically, think of the plot of "Footloose" and you have a good idea about how people felt about it. One of the books they cited that detailed the perils of dancing was called "Jitterbugging Your Way to Hell."
GL: That is like choosing a favorite child. However, the one that I got the most laughs out of was hearing an unconfirmed rumor that Peter Agre got a "D" in his chemistry class with his dad teaching.
How is working on a collaborative project like this different from previous research you've done in classes (if it is different at all)? Have you learned any new skills in the process?
CC: It's different because we provide each other feedback at the end of the week. It can sometimes be rather brutal and honest, but we talk about our strengths and weaknesses as writers and that really helps us all grow to be better at it. I've already noticed a difference in my writing because of it.
GL: It is pretty nice, I have to say. The benefit comes when I need a person to bounce ideas off of and my team is right there to help, and it helps that they are all experts too.
What's your dream job?
CC: Currently (emphasis on currently) my dream job is to be an exhibit curator or designer of some kind. I would like to work in Public History in some way, but I think it would be really interesting to write content for exhibits. I've always loved seeing the multitude of ways exhibits communicate information. It can teach people a lot more than a research paper in some ways, because there are so many mediums that exhibits use to communicate history.
GL: That would be the million dollar question. However I would love to be the CEO of some company or an executive of some sort. Also I think the President of the US would be a pretty good gig too.
Written by: Mary Cornelius