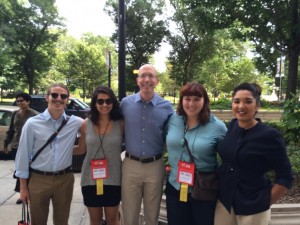 From August 22-25, 2015, five Augsburg sociology students received URGO funding to attend the 110th American Sociological Association Annual Meeting in Chicago. According to the association's webpage, "Nearly 600 program sessions are convened during the four-day meeting held every August to provide participation venues and networking outlets for nearly 3,000 research papers and over 4,600 presenters."
Keisha Barnard, a senior, presented her paper titled "Moprivation: the Motivation and Deprivation Produced by Social Media Usage" during the conference.
"This was my first time at an ASA conference. I did not expect the conference to be so large. It was amazing to be surrounded by some of the most prestigious sociologists," said Barnard. "If I had the opportunity to attend the conference again in the future, I would pick 'random' presentations to sit in on instead of picking topics I am familiar with. I went to several presentations that included information I've previously studied; thus, instead of learning new information, I was refreshed on familiar topics."
When asked how attending the conference would affect her studies in the coming year, Barnard replied, "Throughout the conference, I heard critique about the discourse of sociology. Many expressed the urgency to make sociology public. Instead of taking public action, many sociologists stick to producing research paper after research paper. Though these research papers are important and needed to provide crucial information, I am more motivated to take the provided information and transform it into public action. Thus, my future studies and career path will hopefully involve action-oriented work."
Students Devin Wiggs, Hannah Bech, Duina Hernandez and Courtney Terry also attended and presented at the conference.
URGO offers up to $850 in travel funding for Augsburg students who wish to present research at a professional conference.  These funds can mitigate the high costs of travel such as airfare and lodging, and can contribute to students' professionalization. To learn more and to find the URGO Travel Application, click here.
Written by Mary Cornelius '16