Miranda Campbell '06 was part of the first URGO Summer Research cohort ten years ago and is now one of the first URGO alum to receive a doctorate degree. Her Ph.D. is in Clinical Psychology from University of Illinois – Chicago. Below, she answered a few questions about how her undergraduate experience prepared her for graduate school, what the most enjoyable and most challenging parts of her experience were, and, looking back, what advice she'd give to herself as an undergrad.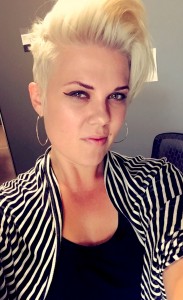 What was your experience with research as an undergrad? What skills did you learn (from research or otherwise) that helped you most in graduate school?
My research experience in undergrad paved the way for my future career in Clinical Psychology (THANKS DIXIE!). I had the wonderful opportunity to participate in URGO's summer research program during my final year at Augsburg in 2006. I worked with Dr. Nancy Steblay on a project evaluating the fairness of police lineups in Hennepin County, and it was an amazing, rewarding, and challenging experience!  This is when I first learned how powerful and exciting it is to ask a question and carefully, methodically seek to find an answer to that question. My experience with URGO was my first taste of REAL research, and I loved every part of it: the challenge, having to expand my breadth of knowledge to fully understand an area of literature and feel like an "expert" on it, the persistence and detail-orientedness needed to carry out a research project well, and – most exciting – the final product! Knowing that you have contributed something meaningful to the world, and that others will benefit from your hard work – that is something to be proud of.
How did you decide which graduate school to attend, and what was your experience in applying?
The grad school application process, for me, was full of questions like:  Why haven't I heard from them yet? Did I make a typo in my personal statement? Will I really be able to live there? What if I don't get in, is it a sign that I should be doing something else? What if I get in but then I fail? How am I going to pay for all of these applications, I just paid to take the GRE…what?! What if I don't get in anywhere, then all of this was a waste! Why is this all so hard?
Thankfully, the process and those questions did end, eventually. I knew I wanted to get a Ph.D. in Clinical Psychology upon graduation from Augsburg, but I also knew that I wanted a program that balanced both research and clinical work. Some doctoral programs in this area are unbalanced, either focusing almost solely on clinical training or sacrificing this training for heavier research training. Next, I had to contact potential graduate advisors with research programs that matched my interests to see if they would be accepting a graduate student to mentor during the next year. Finally, I limited myself geographically to the Midwest because I wanted to be close to my family if possible. I ended up applying to 8 programs, received interviews at 4 of them, and was accepted into my top choice at the University of Illinois – Chicago.
What was the most enjoyable part of your graduate work? The most difficult part?
The most enjoyable part of my graduate work was the opportunity to learn SO much, and have that basically be my job. Also, I am especially invigorated by clinical work, and the feeling that comes along with knowing that you are helping someone make a change that will benefit their life. I would have to say that the most enjoyable MOMENT of my graduate career was when I successfully defended my dissertation, June 30th of 2015. That moment will burn in my mind forever.
Like with many things for me, the most difficult parts of my graduate work are tied to the most enjoyable because I thrive off challenge. It was really difficult at times to stay motivated to keep going, to keep working, especially when a research project lasts for multiple years. There were times where I thought everything was going right, but then realized I had made a mistake along the way, and hours or days of work was lost. Having your own work rejected from journals is also hard, as any type of rejection is. But, a graduate program is a lot like a good research project – you just have to keep going until the end, knowing that hopefully it will all be worth it.
Describe your current position and research interests. Do you have any long term dreams or goals with your research?
On the same day I defended my dissertation, I was called and offered a permanent full-time psychologist position at the Edward Hines, Jr. VA Hospital (Hines VA) located right outside of Chicago.  I had just completed my year-long Clinical Psychology Predoctoral Internship at the Hines VA, and prior to that I completed a year-long externship there as well. I had hopes of landing a full-time job at Hines because I loved the work and psychology staff there, but you can never predict that happening given that there are a limited number of positions, especially in my specialized area of Medical Rehabilitation Psychology. But, the stars aligned and I am now working as the Medical Rehabilitation Psychologist covering two units: Inpatient Acute Medical Rehabilitation, and the Geriatric Transitional Care Unit. On the Acute Rehab Unit, I provide psychotherapy and assessment services to Veterans who are in the hospital recovering from serious medical procedures or conditions, such as amputations, strokes, brain injuries, knee replacements, etc. On the Geriatrics unit, I provide similar services to Veterans dealing with medical issues that require more long-term stabilization and care, such as Parkinson's disease, end-stage cancers, etc. I also work some with caregivers and family members who need support as their Veteran copes with their medical issues. Technically, my title is "Graduate Psychologist" because I am not yet licensed. To obtain licensure as a clinical psychologist, I'll need 1 full year of post-doctoral clinical work and will have to take and pass the EPPP licensure exam.
Regarding my research interests, the majority of my work in graduate school focused on psychophysiological measures associated with depression and/or anxiety. I have always been interested in the relationship between the mind and the body, and how biology and psychology intersect. This is also reflected in my clinical interests as a Med Rehab Psychologist. Now that I am working with Veterans, I hope to extend my research interests to serve them. I have not yet had the opportunity to conduct research that so closely aligns with my clinical work, but I think that it would be an incredibly satisfying experience. I know that will be a possibility in my future VA career.
Looking back, if you could give any advice to yourself as an undergraduate, what would it be?
Don't question yourself so much, but be sure to never stop asking questions.
Written by Mary Cornelius '16