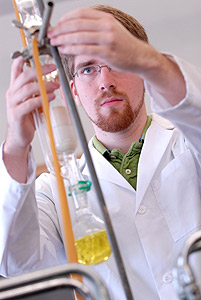 URGO provides research opportunities for Augsburg undergraduate students year-round.  Student researchers work directly with faculty mentors as they gain important analytic, technical, and writing skills.  In an increasingly competitive job market and graduate admissions pool, these transferable skills are highly valuable.  URGO offers a 10-week Summer Research Program as well as research grants throughout the academic year for students who wish to further their study outside the classroom.  Students from all disciplines are invited to participate, and past projects have ranged from biology lab work to theater performance.  All final projects are presented at the Augsburg Zyzzogeton Research Symposium in the spring.
URGO Summer Research Program
The URGO Summer Research Program is a 10-week, on-campus program where students are funded to join a faculty member's on-going research/creative line or carry out an individually-designed project.  Students receive support throughout the research process from their faculty mentor, weekly seminars, and roundtable discussions with fellow researchers.  URGO provides full-time summer researchers with a  $4,000 stipend while half-time researchers receive a $2,000 stipend.  The program runs from May – July.
URGO Summer Research Assistantships
URGO also provides funding for students to work for a professor as a research assistant on an ongoing research project.  This is a 100-hour commitment over the course of the summer and comes with a $1,000 stipend.  This is an excellent opportunity to try out research for the first time or focus on a specific aspect of a research project.
Academic-Year Research Grants
Each fall URGO offers $1,000 research grants for students who wish to gain research experience with an Augsburg faculty member.  These grants require 100 hours of research over the course of the academic year and are a great way to ease into research or to continue work on an existing project.
Applications for Academic-Year Research Grants are accepted on a rolling basis.  To apply, complete the electronic application below with your faculty mentor.  Upon completion of the research project, students are required to fill out the research report form below.  Mentor approval for projects is shown by emailing the application and report form to urgo@augsburg.edu.
Academic-Year Research Application
Augsburg Experience
All URGO research experiences count towards the Augsburg Experience requirement if the student presents their research publicly (Zyzzogeton, regional conference, national conference, etc.).
To apply your URGO research to the Augsburg Experience requirement:
After you have completed your hours and public presentation, have your faculty mentor sign the Augsburg Experience Form.
Turn the form in to the Registrar.