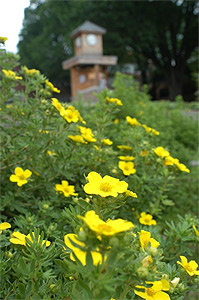 Augsburg is the only college of the Evangelical Lutheran Church in America located in the heart of a large urban area, and we consider this city our metropolitan classroom. We engage with the city—with our neighbors, with arts and culture, with Fortune 500 companies, and with all it can teach us about our diverse, urban environment.
For our students, the Twin Cities provide boundless opportunities for service-learning, internships, research, jobs, and more. An Augsburg education prepares students in many ways for leadership and service in our global society.
Accreditation, Approvals, and Memberships
2013 President's Higher Education Community Service Honor Roll—with Distinction
Augsburg College was named to the President's Higher Education Community Service Honor Roll with Distinction. Augsburg was  one of only three in Minnesota to earn this distinction. This is the fourth time the College has earned this honor. The award, presented by the Corporation for National and Community Service, recognizes the work of colleges and universities in overall community service.
In 2010, Augsburg won the 2010 Presidential Award for Community Service, the highest honor possible for service work. At the time, Augsburg was the only Minnesota college or university to have received this honor.
Throughout the United States, college and university students contributed $2.5 billion in value in community service.
#5 Most Transgender-Friendly College
College Magazine named Augsburg the #5 Most Transgender-Friendly College in the country. Schools are ranked to help students choose an institution that works hard to make their campus feel like home for transgender students and offers comfort, safety, and freedom to all students.
Top 50 LGBT-friendly Colleges & Universities, 2014
Augsburg was featured on Campus Pride's Top 50 LGBT-friendly List in 2014. Campus Pride is the leading national organization for creating safer, more LGBT-friendly colleges and universities. The Top 50 list reflects colleges and universities that achieve the highest ratings across all benchmarks for LGBT-inclusive policies, programs, and practices related to gender identity/expression and sexual orientation. Campus Pride commends the Top 50 campuses for leading the way in LGBT-inclusion and creating a safe learning environment.
2014 President's Interfaith and Community Service Honor Roll: Finalist with Distinction
Augsburg College was one of five finalists in the United States named to the prestigious President's Higher Education Community Service Honor Roll with Distinction in the interfaith and community service category. This is the fifth time that the College has been named to the top tier of recognition—the honor roll with distinction—for this prominent national award. More than 500 schools vied for the 2014 award that celebrates outstanding achievements in and commitment to interfaith and community service work. In 2010, Augsburg took top honors from among a field of 850 applicants.
Top 25 schools for service-learning
U.S. News & World Report designated Augsburg College as one of the top 25 colleges and universities in the nation—and the only Minnesota school—for its dedication to service-learning in 2013. Schools named to the list were nominated by college presidents, chief academic officers, and deans from more than 1,500 higher education institutions, to schools that require volunteering in the community as an instructional strategy and a requirement of a student's coursework.
Augsburg was also named to the list in 2009.
Best Regional Universities by U.S. News & World Report
U.S. News & World Report named Augsburg one of the Best Universities in the Midwest. Rankings are based on several factors, including average first-year retention rates, graduation rates, class sizes, student-faculty ratios, acceptance rates, and more.
2016 Military-Friendly School
Augsburg was named a 2016 Military Friendly® School, a list which is compiled through extensive research and a free, data-driven survey of more than 10,000 VA-approved schools nationwide. Military Friendly Schools have gone above and beyond to provide transitioning veterans the best possible experience in higher education.  
Augsburg was also named to the list in 2015.
Best in the Midwest by The Princeton Review
In 2013, Augsburg College was again named one of 155 colleges that The Princeton Review has named "Best in the Midwest" for academic excellence.
2014 Top Colleges for Older Students by BestColleges.com
Augsburg College was listed as one of 50 Top Colleges for Older Students by BestColleges.com. To compile this list of the best colleges for older students, BestColleges.com examined each school's academics, student engagement, percentage of students above age 25, and programs geared toward nontraditional students. Augsburg was listed as number nine of 50 for it's programs designed for nontraditional students, it's hybrid learning format, percentage of students over the age of 25 (31 percent), and schedule flexibility.
Top 200 Schools in 2015 by Winds of Change
The American Indian Science and Engineering Society Winds of Change magazine has selected Augsburg as one of the Top 200 Schools in 2015 for Native American and Alaska Native students pursuing degrees in science, technology, engineering, and math.
Top 100 nationally for contribution to the public good
Augsburg College was the No. 2 institution in Minnesota named by Washington Monthly in its 2013 Master's Universities Rankings. The list rates schools based upon their contribution to the public good in three categories: social mobility, research, and service.
High ROI College
Augsburg College was named a top college for return on investment (ROI) in Minnesota for having high-earning graduates in comparison to tuition and fees. The ranking, by Affordable Colleges Online, is the result of a partnership among the National Center for Education Statistics, Integrated Post-Secondary Education Data System, the Carnegie Foundation, and PayScale.com.
Best Colleges for Veterans by U.S. News & World Report
Augsburg College was ranked one of the Best Colleges for Veterans by U.S. News & World Report for participating in federal initiatives helping veterans and active service members apply, pay for, and complete their degrees.
Top Military-Friendly School
Military Advanced Education (MAE) has selected Augsburg College as a top military-friendly school in the Military Advanced Education 2014 Guide to Military-Friendly Colleges & Universities. MAE staff evaluates each submission by strict criteria. As the first publication to do a military-friendly list, MAE has been improving the process every year in order to provide our men and women in uniform information that will help them make the right choices about college.
Fulbright Scholars
In Fall 2013, the U.S. Department of State recognized Augsburg College for being among the top colleges and universities for producing Fulbright students. The College, ranked No. 11 among master's institutions, has had 17 Fulbright students since 2007. The Chronicle of Higher Education also recognized the College in 2010-11 for being a top producer of Fulbrights. The Fulbright Program is the U.S. government's flagship international educational exchange program.
Gilman International Scholarship Awards
More than 36 Augsburg students have been awarded a Gilman International Scholarship since 2008. The Gilman International Scholarship Program provides awards for U.S. undergraduate students who are receiving Federal Pell Grant funding and are in good academic standing to participate in study and intern abroad programs worldwide.
Goldwater Award (2013-14)
Allison Zank '14
2014 Newman Civic Fellows Award
Vincent Henry '15
Rose and Jay Phillips Scholars
Sagal Ali '16
Muna Mohamed '15
Rossing Physics Scholarship, ELCA (2014-15)
Juan Tigre '16
Fik Beyene '16
2012 National Society for Experiential Education Award
Augsburg College's commitment to experiential education was recognized for the third time in as many years on October 5, 2012 when the National Society for Experiential Education (NSEE) presented President Paul C. Pribbenow with the 2012 William M. Burke Presidential Award for Excellence in Experiential Education.
The Burke Award, a testament to the fact that hands-on learning is a core part of the College's curriculum, includes a $2,000 scholarship that will be awarded to a deserving Auggie who is involved in experiential learning.
2010 President's Higher Education Community Service Honor Roll—Presidential Awardee
Augsburg is one of six higher education institutions in the nation to receive the 2010 Presidential Award for Community Service from the Corporation for National and Community Service. This is the highest award given that recognizes institutions for their commitment to and achievement in community service, and Augsburg is the only Minnesota school to receive this honor. In three previous years, the College has been named to the President's Honor Roll with the additional designation of "With Distinction."
During the 2009-10 school year, Auggies contributed nearly 200,000 hours of community service to programs including course-based service-learning, Campus Kitchen, Bonner Leaders, Urban Scrubs Camp, Community Gardens, GEMS/GISE/STEM summer programs, and much, much more. More than 1,700 students more than 200 faculty and staff participated in academic service-learning last year.
National Endowment for the Humanities, Summer Research Stipend 2010
Dallas Liddle, Associate Professor of English
2009 Rhodes Scholar
Brian Krohn '08, BA Chemistry, Environmental Change and Management
2009 Milken Family Foundation Educator Award
Martha Spriggs '96, Andersen United Community School, Minneapolis, Minn.
Outstanding Youth Award 2009, Association of Fundraising Professionals
Campus Kitchen at Augsburg College
ASCAP award, Concert Music Division, 2009-10
Carol Barnett, Studio Artist, music composition
2009 NCAA Division III national championship
Augsburg wrestling team (11th title in 20 years)
2009 NCAA Division III Coach of the Year
Mark Matzek '05, Head Football Coach
Award of Excellence 2009, American Music Therapy Association
Music Therapy Department, for 35 years of excellence; with lifetime membership awarded to Roberta Kagin, associate professor and program director
"25 on the Rise"
The Minnesota Hispanic Chamber of Commerce named Hector Matascastillo '10 MSW as one of the "25 on the Rise in 2010."
Outstanding Student Paper Awards
Randy Krug 10, chemistry, Beta Beta Beta, 2nd place
National Certifying Examination, Physician Assistant master's degree graduates
Class of 2009—placed in 85th percentile (Augsburg mean score, 596; national score, 535)
Going Green Production Award, University and College Designers Association (UCDA)
Augsburg Now magazine, Spring 2009 issue
Serve 2.0 Star Community Partner Profile Award, Bonner Summer Leadership Institute
Mallory Carstens and Kate Lewis, Bonner Scholars, for the video introducing Augsburg