Monday, April 7, 2014
Hoversten Chapel
5 p.m. – Alumni reception to celebrate the careers of retiring physics faculty Mark Engebretson and Jeff Johnson
7 p.m. – 2014 Sverdrup Visiting Lecture Series featuring Bonnie L. Bassler, PhD,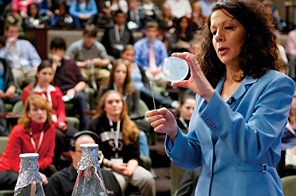 professor in molecular biology, Princeton University, who will discuss Tiny Conspiracies: Cell to Cell Communication in Bacteria.
The Sverdrup visiting scientist lecture is part of the General Leif J. Sverdrup Visiting Scientist Program at Augsburg. There are two goals of the Sverdrup Visiting Scientist Program. First, to provide an opportunity for Augsburg students and faculty to interact on a personal basis with scientists of national stature. Second, the program provides an annual forum where Augsburg and the wider scientific community can expand their knowledge on a scientific topic of national significance.
RSVP for the alumni reception online at www.augsburg.edu/alumni/events.