February
,
Bill Nye "The Science Guy"– February 14, 2015
11:30 a.m. – 12:30 a.m. (Doors open 10 a.m.)
Augsburg College
Kennedy Center/Si Melby Hall
715 23rd Ave. S.
Minneapolis, MN 55454
Campus Map
Bill Nye "The Science Guy" will share his love for science when he speaks at Augsburg College's Scholarship Weekend in an address that is open to the general public. Nye, who will talk about "How Science Can Save the World," will speak with academic depth and humor about planetary science, climate change, evolution, environmental awareness, and more.
Tickets
All tickets are general admission with seating available on a first-come, first-served basis: augsburg.edu/tickets/
General Public
Sale begins: 10 a.m., Monday, December 8, 2014
Students: $12.00*
General Public: $28.00*
*All tickets will be charged a $3.00 service charge at check-out.
March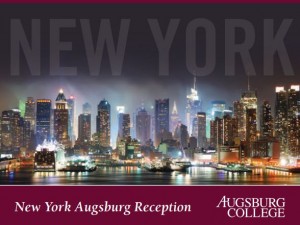 New York Augsburg Reception
Augsburg Alumni and friends living in and around the New York area are cordially invited to an Augsburg reception with President Paul C. Pribbenow, Associate Professors Peter Hendrickson and Joe Underhill, Alumni Parents, and Friends of the college, as well as, Current Students who will be in New York participating in the Model UN, and vocalists who will be singing at Carnegie Hall.
Saturday, March 21, 2015
5-7 p.m.
Scandinavia House
Volvo Ballroom
58 Park Avenue
New York, NY
RSVP by Tuesday, March 17 by clicking here or by calling 612-330-1085.