February
Augsburg All-Alumni Wrestling Reunion and Celebration of the 5's - February 5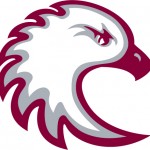 Augsburg Wrestling and the Alumni Association invite you and your family to attend the Augsburg All-Alumni Wrestling Reunion and Celebration of the Championship 5's (2005, 1995, 1985, and 1975) on Thursday, February 5 starting at 5 p.m. in the Kennedy Center.
You will have the opportunity to celebrate with former teammates, coaches and managers, hear from current and past coaches, and cheer on the current team at 7:30 p.m. as we take on long-standing rival Wartburg College on the elevated stage. This also will be the first year these two teams battle for the Swens-Millboy Championship Belt.
RSVP by Tuesday, February 3 by clicking here or by calling 612-330-1085.
Auggie Networking Event – February 10
Connect with fellow Auggies, support student success, and build your Auggie network.
Tuesday, February 10, 2015 • 5:30−8 p.m.
Hoversten Chapel, Foss Center (map)
Augsburg College
Minneapolis
Alumni, register here or contact Sara Schlipp-Riedel at 612-330-1178 or schlipp@augsburg.edu.
Strommen Speaker Series: Lynn Casey, CEO of PadillaCRT – February 12
Come to hear from Lynn Casey, CEO of PadillaCRT on Thursday, February 12 at 5 p.m. in the Sateren Auditorium. Casey is the third chief executive officer to lead the former Padilla Speer Beardsley since its founding in 1961. The firm is among the top 12 independents and the largest employee-owned agency in the U.S.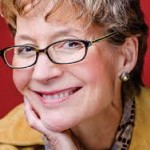 In PadillaCRT's headquarters community, Casey has served on and chaired numerous nonprofit boards. Currently she is vice chair of the Greater Twin Cities United Way, secretary of the University of Minnesota Foundation, and is an active member of the Minnesota Women's Economic Roundtable and the Itasca Project.
Casey was named Woman Business Executive of the Year by the Minneapolis St. Paul Business Journal in 2011, inducted into the Junior Achievement Hall of Fame in 2011, and inducted into the Minnesota Business Hall of Fame in 2014.
Register by clicking here or by calling 612-330-1085.

Bill Nye "The Science Guy"– February 14
11:30 a.m. – 12:30 a.m. (Doors open 10 a.m.)
Augsburg College
Kennedy Center/Si Melby Hall
715 23rd Ave. S.
Minneapolis, MN 55454
Campus Map
Bill Nye "The Science Guy" will share his love for science when he speaks at Augsburg College's Scholarship Weekend in an address that is open to the general public. Nye, who will talk about "How Science Can Save the World," will speak with academic depth and humor about planetary science, climate change, evolution, environmental awareness, and more.
Tickets
All tickets are general admission with seating available on a first-come, first-served basis: augsburg.edu/tickets/
General Public
Sale begins: 10 a.m., Monday, December 8, 2014
Students: $12.00*
General Public: $28.00*
*All tickets will be charged a $3.00 service charge at check-out.
Arizona Alumni & Friends Tour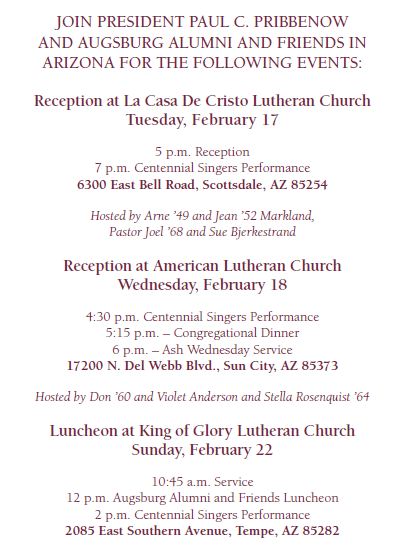 RSVP by clicking here or by calling 612-330-1085.
For details on the Centennial Singers tour schedule, click here.
March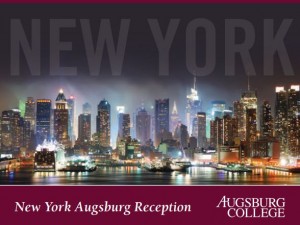 New York Augsburg Reception
Augsburg Alumni and friends living in and around the New York area are cordially invited to an Augsburg reception with President Paul C. Pribbenow, Associate Professors Peter Hendrickson and Joe Underhill, Alumni Parents, and Friends of the college, as well as, Current Students who will be in New York participating in the Model UN, and vocalists who will be singing at Carnegie Hall.
Saturday, March 21, 2015
5-7 p.m.
Scandinavia House
Volvo Ballroom
58 Park Avenue
New York, NY
RSVP by Tuesday, March 17 by clicking here or by calling 612-330-1085.