December
Velkommen Jul 
This much beloved holiday tradition highlights the College's Scandinavian heritage . The annual event will be hosted by the Augsburg Associates on Friday, December 5, Velkommen Jul begins with chapel service at 10:40 a.m. and moves to the Christensen Center from 11 a.m. to 2 p.m. The event, rumored to be one of the largest gatherings of Norwegian sweaters in the country, includes Scandinavian music and foods such as krumkake (a Norwegian waffle cookie) and lefse. A unique boutique offers handcrafted items for purchase.
Advent Vespers
Friday, December 5, 2014 at 5 & 8 p.m.
Saturday, December 6, 2014 at 2, 5, & 8 p.m.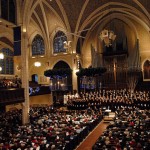 Advent Vespers celebrates the beginning of the Christmas season with traditional and contemporary hymns, anthems, and carols. The Augsburg College Advent Vespers celebration is one of the largest holiday music events in the Twin Cities with over 10,000 worshiper participating annually.
Held in the beautifully renovated Central Lutheran Church in downtown Minneapolis, this celebration combines more than 300 participants including choirs, instrumentalists, readers, and a full liturgical party.
February
Bill Nye "The Science Guy"– February 14, 2015
11:30 a.m. – 12:30 a.m. (Doors open 10 a.m.)
Augsburg College
Kennedy Center/Si Melby Hall
715 23rd Ave. S.
Minneapolis, MN 55454
Campus Map
Bill Nye "The Science Guy" will share his love for science when he speaks at Augsburg College's Scholarship Weekend in an address that is open to the general public. Nye, who will talk about "How Science Can Save the World," will speak with academic depth and humor about planetary science, climate change, evolution, environmental awareness, and more.
Tickets
All tickets are general admission with seating available on a first-come, first-served basis: augsburg.edu/tickets/
A presale is available to current students. faculty, and staff beginning 10 a.m., Monday, November 24, 2014.
Presale Ends: 11:59 p.m., Sunday, December 7, 2014.
An Augsburg College Augnet login will be required to gain access to the presale.
General Public
Sale begins: 10 a.m., Monday, December 8, 2014
Students: $12.00*
General Public: $28.00*
*All tickets will be charged a $3.00 service charge at check-out.