March
Tickets are now available for the Nobel Peace Prize Forum March 6-8, which will feature the work of 2013 Nobel Laureate, the Organization for the Prohibition of Chemical Weapons (OPCW) and Former United States President and Nobel Laureate Jimmy Carter and his latest book: "A Call to Action: Women, Religion, Violence and Power." The Forum will address critical issues of our time, featuring talks by courageous peacemakers, world leaders, and influential thinkers.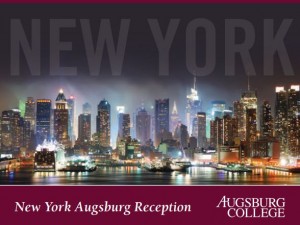 New York Augsburg Reception
Augsburg Alumni and friends living in and around the New York area are cordially invited to an Augsburg reception with President Paul C. Pribbenow, Associate Professors Peter Hendrickson and Joe Underhill, Alumni Parents, and Friends of the college, as well as, Current Students who will be in New York participating in the Model UN, and vocalists who will be singing at Carnegie Hall.
Saturday, March 21, 2015
5-7 p.m.
Scandinavia House
Volvo Ballroom
58 Park Avenue
New York, NY
RSVP by Tuesday, March 17 by clicking here or by calling 612-330-1085.
Latin@ Networking and Professional Panel Event   
It is with great excitement we welcome Latin@ alumni back to campus to meet with current Latin@ students for the first Latin@ Networking and Professional Panel Event.  Today, there are 177 self-identified undergraduate and graduate Latin@ students compared to only 29 students in 2000. Our growing population of students are eager to learn from alumni's personal experiences and career advice. Latin@ Augsburg College Alumni have so much to offer current students. Come back to campus and connect with other Auggies to support student success. Food and beverages will be provided.
~En solidaridad–Dulce Monterrubio '12, Director of Latin@ Student Services
Wednesday, March 25, 2015
Hoversten Chapel, Foss Center
5:30-7:30 p.m.
RSVP by following this link. If you have any questions, please contact Volunteer and Alumni Engagement Manager Katie Radford '12 at radford@augsburg.edu or 612-330-1329.
Washington, D.C. Augsburg Reception
Please join us for an Augsburg College gathering of alumni, parents and friends.  This uniquely Augsburg reception will be held at OmniEarth Inc., a sci-tech start-up launched by alumnus Lars Dyrud '97, who serves as President and CEO.  While we gather for food and fun conversation, Provost and Chief Academic Officer Karen Kaivola will discuss how Augsburg is educating students for a life of meaning and purpose in the 21st century.  This is your opportunity to meet and connect with Auggies in D.C., don't miss it!
Wednesday, March 25, 2015
6-8 p.m.


251 18th St. S., Suite 650,
Arlington, VA 22202
OmniEarth is located above the Crystal City Metro Stop
RSVP by Friday, March 20 by clicking here or by calling 612-330-1085.
April
Strommen Speaker Series – MayKao Y. Hang, President & CEO, Wilder Foundation 
MayKao Y. Hang is the President and CEO of the Wilder Foundation.  She is committed to achieving an equitable society where everyone can prosper. Having overcome adversity in her own childhood and young adult life, MayKao believes in the power of changing one life at a time and strengthening the social and civic infrastructure of our communities to transform the world.  Take advantage of this unique opportunity to hear from this inspiring leader.
Sateren Auditorium, Augsburg College
Thursday, April 9, 2015
5:00 p.m.
Register by clicking here or by calling 612-330-1085.
May
AWE/Augsburg Associates Spring Event – Am I Measuring Up?

Saturday, May 9
9:30 a.m. – 1:00 p.m.
Augsburg College, Hoversten Chapel
Cost: $25 per attendee
Augsburg Women Engaged (AWE) and the Augsburg Associates are teaming up again this year to continue the conversation. Auggie women of all ages are invited to attend. More details coming soon. Register today to receive regular updates.