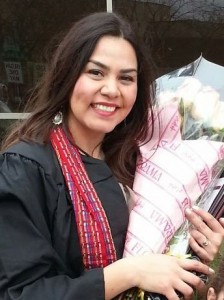 When Dani Bonilla '13 was a sophomore at Augsburg, TRIO/Student Support Services led her to discover Scholastic Connections, a scholarship and mentorship program for high-achieving undergraduate students of color.
She realized that she met most of the requirements, and could be matched with a mentor who would provide extra support and guidance during her college years. Five new recipients are selected for the program each year. Each receives a $5000 scholarship and is paired with a mentor who is a successful Augsburg graduate of color.
After Bonilla was selected to participate, Cindy Peterson, director of Scholastic Connections, searched to connect her with a professional living the life and career that would be a perfect match. Bonilla was looking for a mentor she could relate to—someone who had overcome obstacles, whom she could trust and turn to for guidance. She was eager to learn how to achieve her academic goals and find her career path.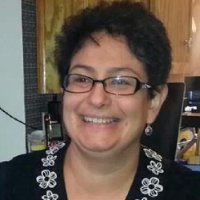 She found Martha Quick MSW '10,  who was excited to offer mentoring to someone interested in social work. Once she and Quick connected, they worked together over the next three years before Bonilla graduated with a psychology major in 2013.
As Martha's mentee, Bonilla was responsible for setting personal and academic goals each semester. They met twice a month, for coffee or sometimes dinner, and Quick met with other mentors monthly. They shared stories with each other. "I truly enjoyed spending time with Dani, and we were able to exchange meaningful experiences," Quick says. "I continue to watch Dani grow in her life as I did when she was in college. Being able to witness a young lady transform professionally gives me great pleasure."
"Martha made me feel as part of her family—there were times she even invited me to family outings," Bonilla says. Between their monthly visits, Bonilla checked in with Martha by phone at least once a week. "As I got closer to graduating, my schedule got busier with classes, work, and internships, but Martha and I made it work, even if our meeting was short."
Auggies Support Students

During her own time at Augsburg, Quick was never in a formal mentoring program, but she credits social work professor Laura Boisen with lending her essential guidance and mentoring in the MSW program.
"I am what I am today because of what she did for me. She gave me courage and showed me the social work map," Quick says. She continues to call on Boisen's guidance and expertise as she prepares to pursue a private practice.
Quick now works with St. John's and St. Joseph's outpatient mental health and addiction medicine clinic as a psychotherapist. She considers herself privileged to have been part of a young person's life and family, and to watch Bonilla grow year after year.
Since Bonilla graduated, Quick encouraged her husband to give mentoring a try. Tony Quick, who has a PhD in engineering physics, is a process engineer for a local semiconductor company. He is currently mentoring a Latino student who is a junior at Augsburg and considering a degree in engineering.
Mentees Become Leaders
Bonilla doesn't hesitate when evaluating her experience. "My experience as a Scholastic Connection Scholar was amazing. It was a great opportunity to learn about myself, to set and meet my goals, and have someone as great as Martha keep me accountable for my good and maybe not-so-good actions. Everything I learned during the three years of being an SC Scholar has carried with me to this day. My experience with Martha, Cindy, and all my peers has shaped me into the person I wished to be during my college years." Bonilla is proud of her accomplishments. She "dreams not only for myself, but for others as well."
At Stonebridge World School, she works as a paraprofessional with elementary children and at Omegon Residential Treatment Center, she is a residential counselor for adolescents who have substance use disorders and mental health illnesses. "I love working at both of my jobs because, after a long journey, I am finally doing what I love, and that is to work with individuals who struggle with behavioral issues and substance use problems. I see the potential of all the kids who I work with, regardless of their diagnosis or school problems."
As a former mentee, Bonilla set personal and academic goals as part of her contract with Quick. She now sees herself as a positive example for the students in her care, and gets great satisfaction from watching them meet their own goals.
Both Bonilla and Quick would agree that mentoring builds confidence, academic success, and a whole lot more—meaningful support, encouragement, and even friendship as the mentor guides the whole person on their personal and vocational journey.
You Can Help
If you'd like to consider becoming a mentor or learning more about other volunteer opportunities for Auggies, please contact Volunteer and Alumni Engagement Manager Katie Radford '12 at radford@augsburg.edu or 612-330-1329.