Planes, trains, tuk-tuks, and elephants: Teaching English in Thailand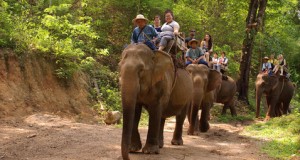 When English professor Kathy Swanson and her husband, Jack, take students to teach English in Thailand, the group packs a lot of activity into three weeks. "We do everything we can possibly do while we are there," Swanson said.
Students travel from Chiang Mai in the north to Bangkok in the south by plane, boat, train, taxi, subway, tuk-tuks (a small open motorized vehicle, like a rickshaw), and they even ride elephants. They visit temples, ride rafts on the river, see pottery and silk makers, tour outdoor markets, and learn how to make Thai food. And for 10 days, they teach English to middle school-aged students in Prachuap Khirikhan, a village located about three hours south of Bangkok on the Gulf of Thailand.
Since 2004, the Swansons have taken students on this short-term faculty-led program through Augsburg's Center for Global Education. Years ago, the Swansons served for two years in the Peace Corps and taught in Prachuap Khirikhan.
Before departing, students learn about language and culture in Thailand and practice speaking some "survival Thai," Swanson said. For the teaching week, students learn the pedagogy of teaching English as a second language—essentially what and how to teach. Some students on the program are English or education majors, but students in other majors attend, Swanson said, simply because they want to experience another country.
Swanson said students often comment in their travel journals that they are shocked and amazed by what they experience in Thailand. And while the program is demanding, she encourages all students to go. "The only way to understand anything about the world is to do it," she said. "The trip can be exhausting, but it's worth it."
See photos of the Augsburg Thailand programs on flickr. http://www.flickr.com/photos/augthailand/