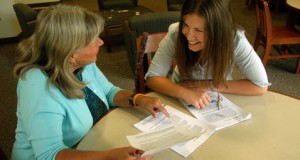 Welcome to the Writing Center at Augsburg University. Our goal is to create a place where students can find useful information and resources about writing.
Visit the Writing Center website
Our Mission
The Writing Center is a free academic support service for all members of the Augsburg Community. Our purpose in the Writing Center is collaboration with students in order to facilitate their engagement with the writing process–from brainstorming ideas and thesis formation to providing editing strategies for the final draft.
The Writing Center staff members have also compiled many grammar worksheets and various handouts that provide information at all steps of the writing process. The Writing Center can help writers deal with writer's block, audience awareness, argumentation, organization, grammar, research skills, the conventions of academic writing, English as a Foreign Language, and issues of clarity and style. By enlisting the students' active involvement in this process through individual tutoring, useful writing handouts, and interactive dialogue, we encourage them to understand their writing strengths and weaknesses.
The Writing Center's goal is to produce better writers who will compose well-developed, well-structured, coherent papers. By these means, we build positive tutor-writer relationships. We look forward to seeing you!
Remember this is your paper, and you set the agenda for each session. In the lab, the tutors want the writer to share ideas before offering input.
Services
The Writing Center offers one-to-one tutoring to students who want help in developing the skills necessary for effective writing. The Center approaches writing primarily as a process. Students are encouraged to bring in projects at any stage of completion — rough notes, drafts, finished essays, graded papers — and are offered help with any aspect of the writing process.
Here is a brief overview of what we can do:
Help to strengthen your thesis
Help to analyze your topic
Work with you on all aspects of your writing process:

Starting to write
Development of Paragraphs
Constructing Sentences
Editing Strategies

Address specific questions about writing
Help with Style and Format of papers
Address specific difficulties or concerns based on your inquiry about assignments and/or writing in your classes
Work with you on a long-term basis or on individual assignments