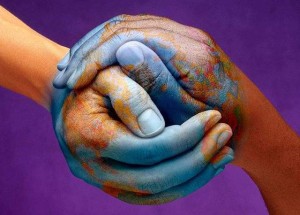 The Department of Languages and Cross-Cultural Studies at Augsburg College was formed in 2008 from its predecessor, the Department of Modern Languages, reflecting a pedagogy that views language and culture as inextricably intertwined as well as central to the liberal arts curriculum. Through its courses on campus, its rich connections with nonprofit organizations in the Twin Cities, and its academic partners around the globe, the department seeks to unsettle the very concept of "foreign" thus enabling students to fully realize the College's mission of global citizenship.
The department offers a wide variety of language, literature, and culture courses leading to majors in French, German, and Spanish as well as an innovative interdisciplinary major in Cross-Cultural Studies. Students also have the option of pursuing lesser-studied languages such as American Sign Language, the primary communication system of the deaf community; Ojibwe, an important indigenous language of the Great Plains area; and Latin, once the universal language of the Christian Church. Courses in yet other languages are available through Augsburg's partner institutions in the Associated Colleges of the Twin Cities (ACTC). Study abroad is required of all departmental majors and highly recommended for minors.
Knowledge of several languages, perhaps combined with the study of linguistics, is essential in preparing for careers in second-language education and translation but also represents a valuable qualification in many other professions. Students anticipating careers in business, law, social work, politics, diplomacy, health sciences, or ministry would be well advised to consider a second major or minor in languages. A language minor is also a valuable research tool for those intending to pursue graduate study in most academic disciplines.