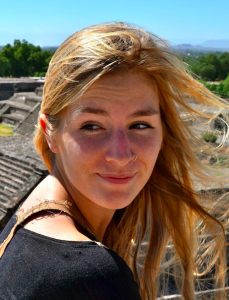 ¡Hola!
My name is Galina Bruckner. I graduated from Augsburg in 2014 with a degree in Cross-Cultural Studies and a minor in Spanish. I transferred to Augsburg in my second year of college, after leaving art school in New York City. I wasn't sure what I wanted to study, but it became much more clear after going on a travel seminar to Mexico with Augsburg's CGE. I chose to declare Cross-Cultural Studies as my major and was able to spend my entire third year of college studying in Cuernavaca, Mexico.
When I arrived in Mexico I had very basic-level Spanish skills, but through courses and immersion I was able to gain proficiency much more rapidly than expected. I was even given the opportunity to be the CGE Mexico intern for the summer after my year in Cuernavaca. It is easy to say that my year abroad with Augsburg was unexpected and life-changing.
After graduating from Augsburg I won a scholarship to volunteer in Suchitoto, El Salvador for three months, which was another opportunity to expand my cross-cultural understanding and practices, as well as to continue practicing the Spanish language. The volunteer position required a lot of interdependence and self-driven motivation, and I feel that my courses and experiences at Augsburg gave me the tools necessary to excel at it.
Directly from El Salvador I moved to Mexico City, Mexico, where I currently live and work. I was hired by the Casa de los Amigos A.C., a Quaker organization focusing on migrant rights and economic justice in addition to other human rights and social justice issues. During the past year at the Casa I have gained incredible skills and life experiences, all while working and living in a diverse community of human rights activists. I am also currently enrolled in a human rights defender's course through the Escuelita del Centro de Derechos Humanos Fray Francisco de Vitoria, where we focus on different human rights topics and populations that are having their rights violated.
I love my life and career in Mexico City, and I don't believe I would have found myself here if it wasn't for Augsburg and the Cross-Cultural Studies department. I had constant encouragement and support from advisors and professors. I can't wait to see what comes next and to continue working and fighting for justice and human rights here in Mexico.
(Last update: August 2015)