Here are some graduates who have gone on to do extraordinary things with their degree from the Department of Languages and Cross-Cultural Studies.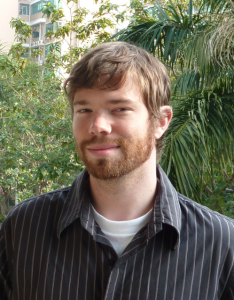 Leif Christopherson '10
Major: Spanish & Political Science
My name is Leif Christopherson. I graduated from Augsburg in May 2010 with a double major in Spanish and Political Science.
While I prepare for law school, I am currently living in Zhuhai, China, working as a teaching assistant at the English Language Centre of United International College. I help students learn to write papers in English, a skill that most of them did not learn before college. I also run a public-speaking club where I teach students the skills they need to give speeches. Last spring, I was surprised to learn that many of the students here are also interested in learning Spanish, and I began running a Spanish tutorial.
My experiences learning another language have greatly helped me in teaching English. When my students are struggling with pronunciation or having trouble using English grammar correctly, rather than getting frustrated, I draw on my own experiences and slowly work through the material with them, clearly explaining every step. Being able to relate to my students in this way makes me a more effective teacher.
Outside of the classroom, the cross-cultural experience of my major has made adapting to life in China much easier. My semester abroad in Spain taught me how to be flexible in a new environment. Without that experience, the language barrier and cultural differences I encounter here would be difficult to handle. I am continuing to learn how to work and communicate across cultures from daily tasks like buying groceries to major events like traveling to other parts of China.
My current position is not one I expected to hold, but it is a rewarding one. Thanks to my major, I have found a meaningful place to live and work far from my home in Minnesota.
(December 2013)
Katia Iverson '12
Major: Cross-Cultural Studies
¡Hola! Habari gani?
My name is Katia Iverson. I majored in Cross-Cultural Studies at Augsburg and graduated in May of 2012.
I was fortunate enough to study both Spanish and Kiswahili languages during my four years at Augsburg and abroad in Mombasa, Kenya.
Since graduating, I have held a number of positions, but have been employed as a Refugee Program Specialist, focusing on housing refugees, at the MN Council of Churches Refugee Services since February of 2013. Here, I work directly with new refugees from around the world as they are beginning their new lives in Minnesota. I assist case managers with securing housing for our clients, and teach our clients what it means to sign a lease, how to pay rent, maintain an apartment, and live self-sufficiently. I also work with currently homeless refugees to find stable housing and meet basic needs for their families, and teach NAREW–New Arrival Refugee Empowerment Workshops for all arriving families.
I give God and my education in Cross-Cultural Studies 100% of the credit for my success in the professional world. It was through my courses in global interdependence and service-based cross-cultural internships in the community that I have found joy and peace working with clients from places like Iraq, Somalia, and Burma. Without the background in languages and travel that were fostered by the Cross-Cultural Studies curriculum, I could not understand the complexity of starting a life in urban Minnesota as I do now. This department has given me the tools I need to be successful in my workplace and around the world.
(September 2013)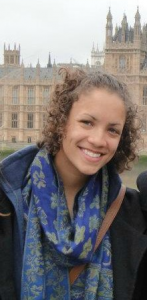 Adrienne Young '13
Major: Spanish & Education
¡Hola! ¿Qué tal?
My name is Adrienne Young and I graduated in May of 2013 with a BA in Spanish and a (pending clinical practice) K-12 world language license. In my time at Augsburg, I studied abroad in Granada, Spain for a semester in the Spring of 2012 and spent six weeks as an ESL instructor in Suchitoto, El Salvador as a Batalden Scholar in the Summer of 2013.
Since graduating this spring, I have been busy completing my clinical practice (student teaching), both at Irondale High School in Mounds View and Emerson Spanish Immersion in Minneapolis. The nature of my license requires a split placement: I spend half the semester teaching high school, half elementary school. After completing my clinical practice in December, I will  complete the remainder of my state tests (MTLEs) to finally obtain my license!
I spent the first half of Summer 2013 teaching English in a small city an hour north of San Salvador, El Salvador. I established my own curriculum and practice for my classes and was the sole English instructor for my stint there. I taught all classes in Spanish because it was a basic English course for beginners. Without a doubt, the preparation I needed to take on this internship came from this department's ability to teach meaningful, challenging, and world-aware courses.
I felt 100% prepared for clinical practice and beyond once leaving Augsburg, and it was because of the outstanding courses and professors. The Spanish and Education courses I took were taught with an incredible awareness and appreciation of diversity that is necessary for developing the appropriate skills to be an effective citizen and educator. It is because of attending a school so completely founded in the mission of service to one's neighbor and community that I feel equipped to cause change in the world through becoming a World Language teacher.
(November 2013)