Constructive Social Work as the agent of co-creative dialogue:  An international perspective. Faculty of Social Work, University of Ljubljana, and Augsburg University, June 26 through July 8, 2017
Our first day in Slovenia
On June 26 of this year, ten MSW students from Augsburg, Emily Glynn and I (Mike Schock) paraded through four airports, three take offs, four landings, and travelling 30 hours arrived tired in Ljubljana, the capital of Slovenia.  To our relief we were warmly welcomed by Profs, Šugman Bohinc, PhD, and Ana Jagrič, Fakulteta za socialno delo, Univerze v Ljublijana, and their students.  After a brief trip to our hotels, we were guided (on foot) to the School's center and welcomed by Prof. Gabi Čačinovič Vogrinčič, and eight Slovenian social work students.  Our warm welcome included a brief introduction to the two-week course, Constructive Social Work as the agent of co-creative dialogue, with student led presentations on Slovenia, a brief history, current demographics, social forces, and geography.  At the end of our first very long day, the U.S. students and faculty shared an evening meal at a local café and then headed off to our hotels.  On day two we began early with more student presentations on current social policy in Slovenia and then a visit to Kings of the Street – a drop in day center for people who are homeless and a tour of the city.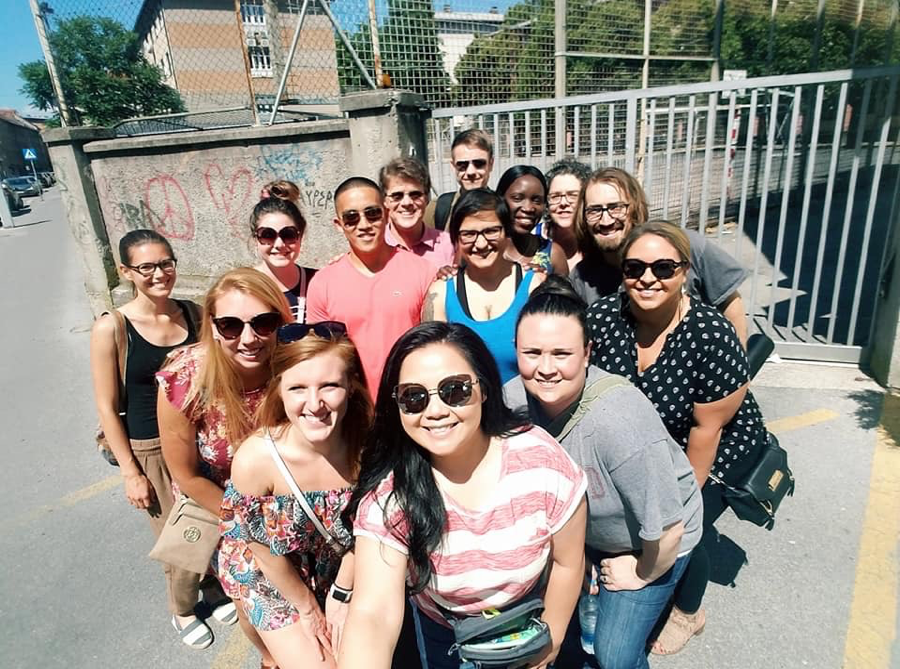 International study in the era of Trump
Every three years Augsburg social work students visit the University of Ljubljana and each visit our students carry a very different political aura.  Travelling to Europe in the time of G.W. Bush was difficult in part because his foreign policy was being roundly criticized in European political circles.  On the other hand, travelling to Europe in 2011 or 2014, U.S. students could be proud of the progressive agenda set by the 44th U.S. President, Barack Obama. However, a visit to Europe in the era of Trump held for us foreboding and worry.  How do we explain the election or for that matter, the sudden rise in anti-Semitism, Islamophobia and racism in the U.S.A?  What will the sudden impulse towards U.S. nationalism and isolationist rhetoric mean to our hosts?  We did not know how we would be received by our Slovene hosts with their tradition of liberal political and social ideology, community and national cohesion and progressive social policies?
Our students expressed other more mundane reservations, reservations about language and money and the worry of getting lost in an unfamiliar country.  At the same time, we arrived in Ljubljana believing that our hosts would introduce to us a new world of social work practices and welfare policies.  That we would be introduced to a country whose history and architecture was both centuries old and decades young.  But most of all, we arrived with the hope of engaging in conversations with our Slovene peers that would challenge us to approach our profession in new and creative ways.
Discovery
From the moment of our arrival, our hosts Lea and Ana, and the summer school students welcomed us with great warmth, enthusiasm and in a language that we could fully understand… English.  From that first day, students from both Ljubljana and Augsburg began to build friendships over food, mutual curiosity, and a shared passion for social justice.  Drawing from my students' journals, I discovered that most of our students were able to engage with the instructors, students and agency staff with curiosity and a healthy dose of cultural humility.  As is common in international education, our students began to doubt their own approaches to social change and social justice.  For instance, our visit to the national prison was so challenging that some of the students spoke despairingly about the criminal justice system in the United States.  Following the visit to Association LEGEBITRA, our students were amazed and a bit jealous of the agency staff's personal relationships with political agents such as the mayor of Ljubljana and federal government policy makers.
Our students were also introduced to beneficiaries of Slovenia's social welfare programs.  The most stirring experience was a walk around the city with guides who were formerly homeless and recovering from their drug addictions. While introducing our students to the more interesting neighborhoods, our guides talked about their personal histories, their failures and victories.  In their personal stories, we witnessed first-hand, the long and hopeful journey into and out of addiction and homelessness.
Nearer the end of our two weeks, students began to ask tougher questions, questions about Slovenian national identity and multiculturalism, about the legacy of Tito's vision of a united, multi-ethnic and socialist country against the newly discovered freedom inherent in a capitalist economic system.  How does the feast and famine of the free market support or challenge the socialist values of the past century? How do you include new immigrants without colonizing their culture? Our students spoke of their worry that these questions might convey a sense of haughtiness and cultural arrogance.  Many of you know that in our program at Augsburg, students have learned to ask these tough questions of themselves and of others. We also learn that asking the difficult questions is a sign of genuine interest and respect, not of judgment and criticism.  So, our students continued to ask more probing questions.  What we soon learned is that for example, no one had ever questioned cultural colonizing with social policy. In other cases, Slovene students and faculty were already asking those very same questions.
Early in my stay, I was introduced to the politics of the German occupation and the Slovene Partisan liberation movement during World War II. One evening I wandered into Trg Zvezda during what was a celebration for veteran Slovene Partisans. Bystanders in the crowd were kind enough to offer a brief history lesson on the German and Italian occupations during World War II. Later in the week, on a visit to Žužemberk castle, I asked one of our hosts more about the role of Slovene Partisans during the German occupation.  This time I accidently stumbled into a sensitive conversation about both the Slovene Partisans and the Home Guard.  I learned that in some cases, Slovene Partisans intimidated rural communities who in response organized their own militia called the home guard.  On the other hand, members of the Home Guard accused their Slovene Partisan neighbors of espionage against their occupiers.  Accusations by both the Slovene Partisans and the Home Guard lead to prison terms and in some cases, their execution.  At the end of the war many Slovene Home Guard members were executed by the Yugoslovian government. The German military was defeated over two generations ago, yet the legacy of resentment and betrayal is still felt among neighbors and within communities.  The story of Žužemberk, Partisians and the Home Guard reminds us that historical trauma is a universal phenomenon, one that we deny at our peril.
Reflection
I was moved on more than one occasion to remind my students how proud I was that they had chosen to study at Augsburg University.  That their thoughtfulness and respect, their unflagging curiosity was an expression of their commitment to social work, social and economic justice.  In reading their final journal entries I was again moved by their deep passion for our profession and our mission.  One of the more troubling lessons was how in Slovenia, professional social workers are criticized and misunderstood.  A lesson learned when hearing that some of the parents of the social work students were not happy with their decisions to become social workers. Misunderstanding of our profession is a universal phenomenon.  A more inspiring take away however was knowing that some of our clinical social work students became more impassioned to work at the community and policy level.  Likewise, our macro social work students expressed a renewed dedication to their work as policy makers and agents for social and political change.
We gathered two weeks after returning to the United States.  We gathered around pizza and pop to talk about what lessons have stayed with us since arriving back in the U.S.A.  What I heard was that students learned about a community of professionals working hard for social and economic justice, a profession that was poorly paid and likely misunderstood.  Basically, our students learned that there are others like themselves, in other countries, working for social justice and the welfare of all. Finally, our students acknowledged that we have much to learn from others and we too have much to share in our pursuit of justice and universal well-being.  Now, we turn to the summer 2018 and are looking forward to hosting our new Slovene colleagues and friends.
Thank you, Profs, Lea, Ana, and Gabi, Jana, Liljana, Mojca and students Tina, Viktorija, Ana, Anže, Žiga, Nastja, Alma and Matea.  And thank you Fakulteta za socialno delo.
A special note of gratitude
for the thoughtful editing from Lea Šugman Bohinc, especially for her counsel on the history of the German occupation during World War II.