June 11, 2019  Lifetime Achievement Award
Nancy Rodenborg, MSW, LGSW, MIA, PhD
Dr. Rodenborg was a United Nations volunteer in Somalia in the early 1980's, setting the stage for her life-long commitment to transcultural relationships and international development with a global perspective. Since then, she has dedicated her research to understand the interactions between cultures and to apply that understanding particularly for the well-being of those who are newcomers, immigrants, refugees, people with disabilities, and/or from historically oppressed groups. Her dissertation research focused on the influence of institutional racism and discrimination in child welfare cases, building on her prior work as a child protection social worker or supervisor in Brown, Dakota and Hennepin Counties in Minnesota and a child protection trainer in Oregon. Her work embodies the link between theory and practice in the field of social work.
In addition to her teaching and research on diversity and inequality, Dr. Rodenborg has been a leader in global education, helping develop the Social Work in Mexico semester and leading student educational groups to Norway and Namibia, and implementing diversity curriculum programs including the Intergroup Dialogue method. Her research on intergroup dialogue and aversive racism is pioneering in the field and has helped frame the multicultural foundations of Augsburg's MSW program. Dr. Rodenborg is also a remarkable collaborator who has partnered on numerous projects with faculty colleagues in her department, University, and with community partners, and has served on boards and commissions in community, nonprofit and educational settings.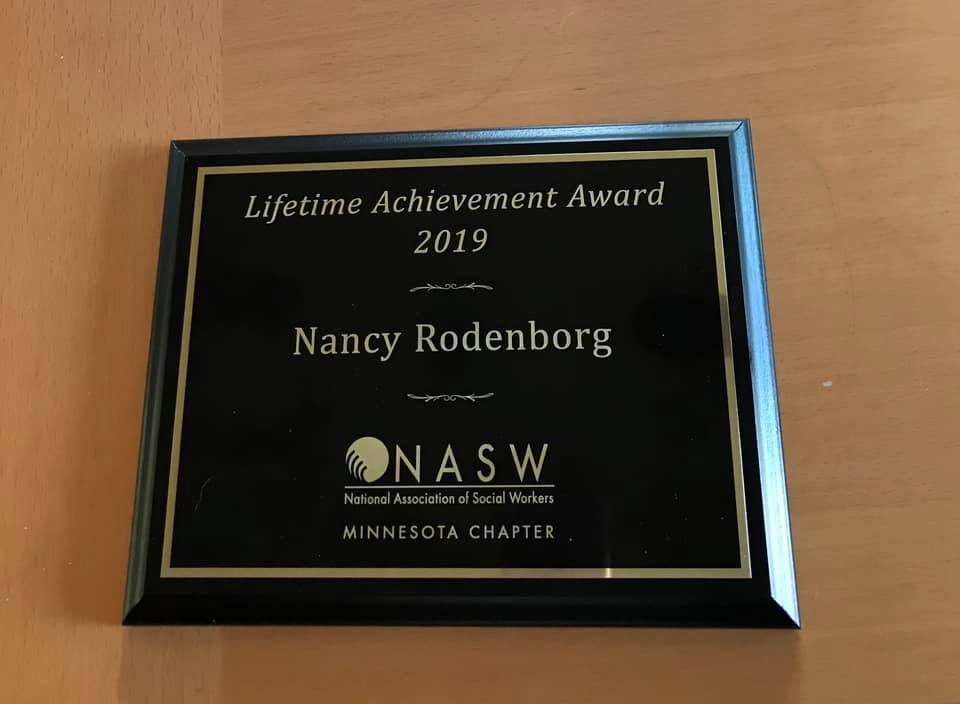 Social Work Honor Society Phi Alpha Augsburg Chapter Omicron Delta
In 2008 there was an official ceremony inducting the Omicron Delta chapter of the national social work honor society Phi Alpha to the Social Work Department of Augsburg University.
The purpose of Phi Alpha Honor Society is to provide a closer bond among students of social work and promote humanitarian goals and ideals. Phi Alpha fosters high standards of education for social workers and invites into membership those who have attained excellence in scholarship and achievement in social work.
Its motto is: "Through Knowledge – the challenge to serve."
The BSW Forum
Learn valuable skills in working within an organization as a BSW forum representative. The BSW Forum is an official committee of the Social Work Department that working along with the BSW Director gives input into these areas:
Input on course content
Course Scheduling
Resources to publicize your or classmates' activities
Coordinate evens with the social work honor society
Discuss social work student quality of school life issues
Proposal and planning of events hosted by the Social Work Department
A chance to meet other class members
Establish a legacy – leaving something behind for future classes
The Steen Torstenson Award
This is an annual honorary recognition by the Social Work Department of an outstanding social work senior. The names of the students receiving the award are listed to be displayed in the department. The award is in honor of Paul Steen and Joel Torstensen, both faculty emeriti of Augsburg University who taught many years in the Sociology Department and founded the Social Work Department. Both were instrumental in developing the social work major in the 1960s and were active forces in Minnesota social work and the cause of social justice.
Criteria
Academic excellence
Commitment to the profession of social work
Service to the community
The Process
Students will nominate fellow seniors (one from each program)
Department faculty members select students to receive the award
Recipients are announced at the annual Senior Party