Upcoming STEM Conferences (Fall 2015)
Nobel Conference; St Peter, MN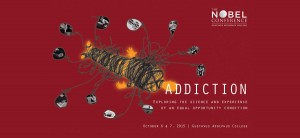 When: Tuesday, October 6th – Wednesday, Oct. 7th
Where: Gustavus Adolphus College
What: "Addiction permeates our society. With the scourge of methamphetamine, increasing use of heroin, and the ubiquity of alcohol, addiction is an "equal opportunity condition." The substances and behaviors to which people become addicted continue to grow as well, with investigations into the possibilities of addictions to food, the Internet, and sex. But what does it mean to be addicted? Is it a brain condition? A psychological and sociological problem? What are the treatment options available? How do the various understandings of addiction influence public policy decisions?"
The 51st Nobel Conference at Gustavus Adolphus College, "Addiction: Exploring the Science and Experience of an Equal Opportunity Condition," which is scheduled for October 6 & 7, 2015, will bring together experts in medicine, neuroscience, sociology, economics, and philosophy to explore the science and experience of addiction.
Link: https://gustavus.edu/events/nobelconference/2015/
---
Society of Hispanic Professional Engineers; Baltimore, MD

When: November 11-15 (Wednesday-Sunday)

Where: Baltimore Convention Center

What: Participate in a wide array of events, such as  the Olympiad and Career Fair, while at the same time you network and gain experience in the field.
---
2016 Emerging Researchers National Conference in STEM; Washington D.C.
When: February 25-27, 2016
Where: Renaissance Washington D.C. Hotel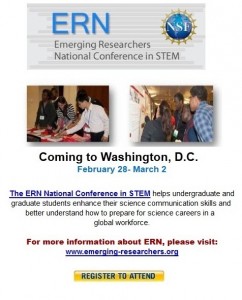 What: The Emerging Researchers National (ERN) Conference in Science, Technology, Engineering and Mathematics (STEM) is hosted by the American Association for the Advancement of Science (AAAS), Education and Human Resources Programs (EHR) and the National Science Foundation (NSF) Division of Human Resource Development (HRD), within the Directorate for Education and Human Resources (EHR). The conference is aimed at college and university undergraduate and graduate students who participate in programs funded by the NSF HRD Unit, including underrepresented minorities and persons with disabilities.
The objectives of the conference are to help undergraduate and graduate students to enhance their science communication skills and to better understand how to prepare for science careers in a global workforce. Towards this end, the general format for the 2-1/2 day conference will include
Student poster and oral presentations.
Other conference activities include workshops focused on:
Strategies for applying for and succeeding in graduate programs and finding funding for graduate school;
Career preparation workshops focused on employment searches and retention; and
Understanding STEM careers in a global context and identifying international research and education opportunities for undergraduate and graduate students and faculty.