President Pribbenow invited Mike Newman, Director of Community Relations at Travelers, to celebrate five years as a partner institution with the Travelers EDGE® program, Empowering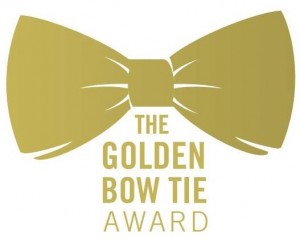 Dreams for Graduation and Employment, for a cocktail hour and focused program highlighting key aspects of the Travelers EDGE program:
Increase the pipeline of underrepresented students to Augsburg
Help underrepresented students graduate from Augsburg
Build awareness of careers in the Insurance and Financial Services industries
Newman is a true champion of education, and advocates strongly for access to higher-education for all students.  As a surprise to Mr. Newman, President Pribbenow, presented Mike Newman with the "Golden Bow Tie Award, which is bestowed upon a leader within the Augsburg Community who exemplifies outstanding contribution, embodies the core values of an Augsburg education and inspires great pride for all Auggies. The award was named, playfully, after Paul Pribenow's daily ritual of wearing a bow tie, a tradition he started to initiate conversation with students.  Along with a certificate, Newman also received bowtie cufflinks.
We are so grateful for the strong institutional partnership with Travelers and the Travelers EDGE program.  Sixteen Augsburg EDGE scholars have completed eleven traditional summer/academic year internships and five short-term summer internships. Moreover, Travelers EDGE scholars graduate and are prepared with the soft-skills necessary for success in the workforce.
Attendees at the celebration event in April included representatives from Fairview Health Services, Wallin Partners, Upturnships, and Wells Fargo, Strommen Center staff, Travelers EDGE alumni and current students.   Mike Newman also shared during the event that, "Augsburg is a meaningful partner for Travelers:  the students are engaged and motivated, and the staff and faculty work hard to consistently support all students."
Thank you to all who attended including four Travelers EDGE scholar alumni, and two current Travelers EDGE scholars, and Janet Morales the college access partnership manager.
For more information please contact, Asst, Director of Corporate and Foundation Relations at Augsburg College, Amanda Scherer, 612-330-1720, scherera@augsburg.edu.