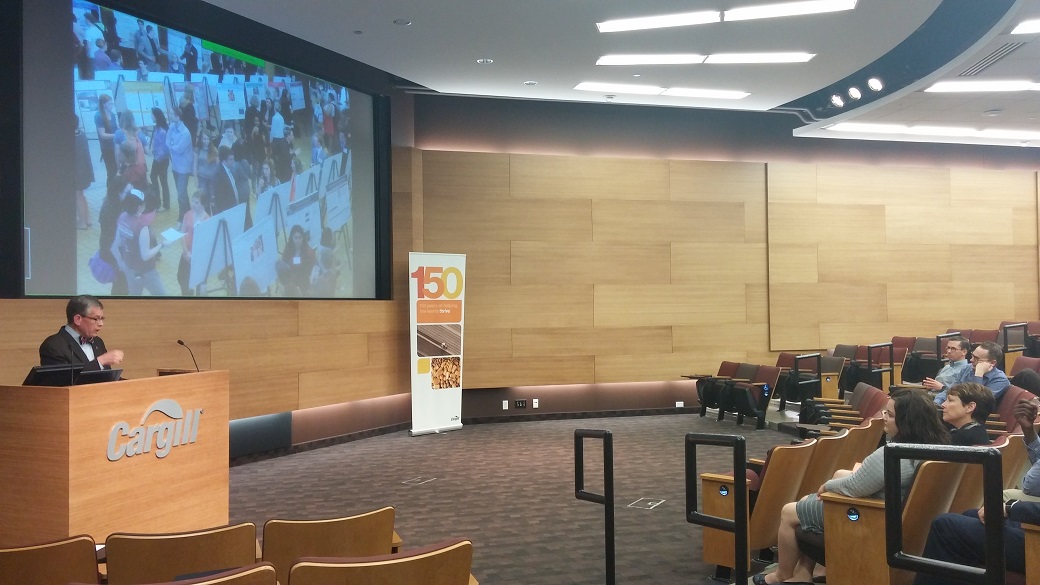 President Pribbenow gives keynote address at Cargill's Ethics Week
Christopher Annand, Masters of Business Administration '09 alum and Director of Global Ethics and Compliance at Cargill, created Cargill's Ethics Week three years ago when he first joined the organization. Each year Christopher has grown the events and programs occurring throughout the week and this year invited President Pribbenow to give the keynote address to a global audience of Cargill employees.
President Pribbenow's presentation, Promises to Keep: An Ethic of Stewardship, challenged the audience to understand when "remarkable gifts and pressing needs meet each other" and how to create abundance in the face of increasing demand for efficiency. Both Augsburg and Cargill are celebrating their 150th anniversary, have a global impact, address food sustainability, and work at being good stewards.
Cargill has been a champion for Augsburg's mission by previously supporting the American Indian Scholarship Fund and the Minnesota Urban Debate League. Augsburg is proud of the Auggie alumni who have found a purposeful career path at Cargill and are striving to be great stewards of their remarkable gifts.
If you are interested in how your company can partner with Augsburg College contact Lee George, Assistant Director of Corporate and Foundation Relations at George2@Augsburg.edu.