Program for East African future teachers
Augsburg College's Education Department is a recipient of the Minnesota legislature's generous Collaborative Urban Educator (CUE) funding. The CUE program's purpose is to increase the diversity of the teacher workforce in Minnesota. Our program specifically targets East African future teachers: East African Student to Teacher (EAST). The goal of the program is to recruit, retain, and license highly qualified students who wish to become K-12 teachers. EAST covers tuition costs towards initial licensure. Award amount will vary based on degree sought and are decided on an individual basis.
View EAST scholar profiles HERE.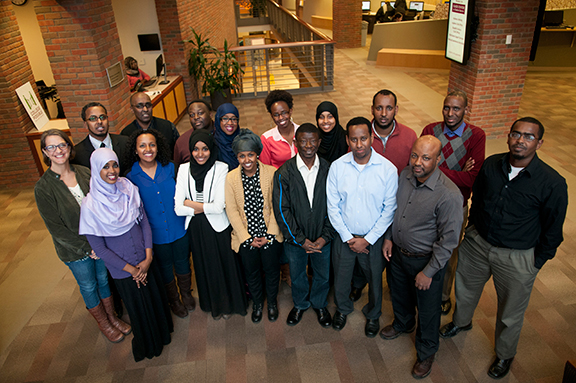 We are no longer accepting applications.  Please email eastprogram@augsburg.edu for more details.
To be eligible to apply for an EAST scholarship, you must be:
Already admitted  as an undergraduate or a graduate student.

If you are an undergraduate, you must have completed at least 2 years of transferrable credit

Of East African descent and multilingual (preferred)
A U.S. citizen or permanent resident and eligible to work in the U.S.
Experienced in working with children and youth
If you are awarded an EAST scholarship, you must:
Take the MTLE Basic Skills exams before October 15, 2015
Attend our bi-monthly meetings and individual advising meetings and, keep in close communication with all Education department faculty and staff
Maintain a 3.0 each semester
Commit to teach in Minnesota for at least 2 years after licensure
Please send all inquiries to eastprogram@augsburg.edu or call 612-330-1345