Program for East African future teachers
Augsburg College's Education Department is a recipient of the Minnesota legislature's generous Collaborative Urban Educator (CUE) funding. The CUE program's purpose is to increase the diversity of the teacher workforce in Minnesota. Our program specifically targets East African future teachers: East African Student to Teacher (EAST). The goal of the program is to recruit, retain, and license highly qualified students who wish to become K-12 teachers. EAST covers tuition costs towards initial licensure. Award amount will vary based on degree sought and are decided on an individual basis.
View EAST scholar profiles HERE.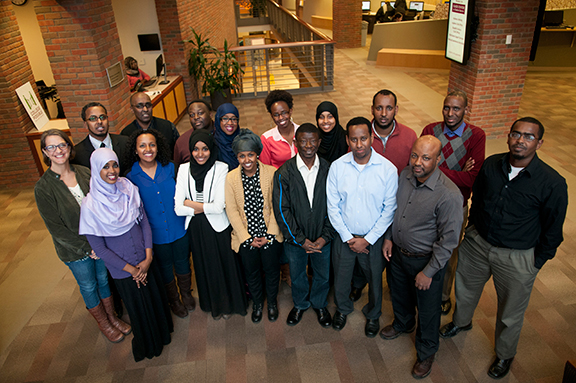 We are no longer accepting applications at this time. Please check back with us in June.  
Eligibility Requirements:
Admitted to Augsburg College in the weekday or weekend/evening undergraduate program or the weekend/evening graduate program.
You must be admitted  in the MAE  or undergraduate program to be considered for EAST Program.
Admitted to Education Department or admissible* to Education Department
2.5 G.P.A.
Of East African descent and bilingual
Able to demonstrate financial need
A U.S. citizen or permanent resident and eligible to work in the U.S.
Undergraduates must be within 5 semesters of graduation
Commit to participate in program activities (MTLE prep; bi-monthly seminars)
Additional considerations as you apply:
Applicants will be required to participate in an on-site interview with program faculty.
Awardees will need to reapply annually.
Graduates are expected to teach in Minnesota for at least 2 years after graduation.
MTLE Basic Skills tutoring will be required if it is not passed within the first year of acceptance to EAST. Test scores may impact future scholarship eligibility.
*If candidate has cumulative GPA and/or major GPA below 2.5 and therefore is not admissible to the department, a special admissions process can be used. Please contact program staff for more information.
For more information, contact:
Yodit Tesfaye                                                           Audrey Lensmire 
CUE/EAST Program Assistant                             EAST Program Director
tesfaye2@augsburg.edu                                        lensmire@augsburg.edu
612-330-1345                                                          612-330-1397