PROGRAM OVERVIEW: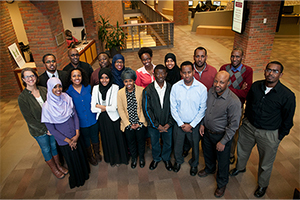 Augsburg's Thrive Program formerly known as EAST (East African Students to Teachers) is for BIPOC students at Augsburg University pursuing a degree in K-12 education. Thrive aims to support students in all aspects of their higher education experience.
MISSION:
Thrive is committed to recruiting, engaging, and retaining student teachers of color through student development, critical mentorship, networking opportunity, and civic engagement activities. The mission is to not only ensure student teachers of color have a successful transition into Augsburg, but also thrive both academically, professionally, and socially. We strive to empower, celebrate, and support students as they create a strong personal foundation and nurture a sense of belonging.
VISION:
Transform the K-12 classroom experience for students of color by empowering and preparing teachers of color that reflect, embrace, and affirm the cultural diversity present in the modern classroom.
Mentorship: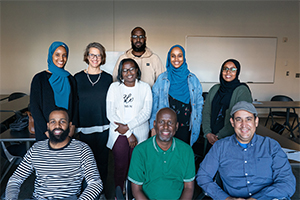 Faculty, staff, and peers provide support and guidance in order to counteract the harmful effects of institutional and interpersonal racism experienced by students of color pursuing teaching degrees and/or careers in academia.
Health & Wellness:
Dedicated to the holistic wellbeing of BIPOC students in efforts to combat the fatigue, fear, and frustration experienced while teaching, living, and learning as a person of color. Facilitate access to culturally competent and diverse health and wellness practitioners to serve BIPOC students at Augsburg University's Education Department.
Culturally Competent Counseling:
Staff and faculty are committed to offering culturally competent counseling that is centered on establishing meaningful relationships and awareness of cultural complexities.
STEPS TO APPLY
---
Faculty & Staff
Sergio Madrid-Aranda (he, him, his) is from Chihuahua, Mexico. He received his Bachelor of Arts in Physical Education from the University of Chihuahua and his Special Education Master's degree Summa Cum Laude from the University of Juarez, in Mexico. Also, he obtained his doctorate in Special Bilingual Education with a certificate on Autism Spectrum Disorders from New Mexico State University in Las Cruces, New Mexico.

In addition to his passion for teaching college students, Sergio is equally interested in supporting students of color, what's more he has served as the president of the Men of Color Initiative at NMSU, an enterprise that focused on celebrating, empowering, and developing a sense of belonging of the students of color assisting their academic and professional success.

Abdikarim M Abdi is the son of East African immigrants who instilled in him a fervent passion for education and equity. Abdikarim received his Bachelor of Arts in Political Science and Economics from St. Cloud State University and later obtained a Graduate TEFL (Teaching English as a Foreign Language). Passionate about access to meaningful employment and education, Abdikarim fought for labor rights and taught English language courses to newly arrived immigrants throughout the state of Minnesota. Abdikarim remains active in his community as a mentor, organizer, and teacher.
---