For more information or to talk with MFA faculty, e-mail mfa@augsburg.edu.
STEPHAN EIRIK CLARK

Stephan Eirik Clark is a writer of fiction, creative nonfiction, and screenplays. His collection of short fiction, Vladimir's Mustache, was nominated for a Minnesota Book Award in 2013.  Stories from the collection have been published in Witness, Ninth Letter, and Cincinnati Review.  Clark's novel, Sweetness #9,  from Little, Brown & Company, publishers of everyone from JD Salinger to David Sedaris, was highly reviewed and received the "Colbert Bump." His creative non-fiction has been recognized as notable in Best of the Web 2009 and Best American Essays 2009 and 2010. Professionally represented as a screenwriter while living in Los Angeles, he has optioned two scripts and seen his screenwriting honored by the Monterey County Film Commission and Francis Ford Coppola's American Zoetrope film studios. A former Fulbright Fellow to Ukraine and one-time member of USC Film School, Stephan earned his master's degree in English from the University of California, Davis and a PhD in literature and creative writing from the University of Southern California. On the web: www.stephanclark.com
---
CASS DALGLISH

Cass Dalglish is a fiction writer and prose poet who has written television news and documentaries as a broadcast journalist. Her published books include the novels Nin (Spinsters Ink) and Sweetgrass (finalist for a Minnesota Book Award), and a book-length prose poem Humming the Blues (Calyx Books). Humming the Blues is a jazz interpretation of the Sumerian cuneiform signs in Enheduanna's Song to Inanna (Ancient Iraq, 2350 BCE). She was an invited speaker during the post museum session of the conference: Inanna — Live at the British Museum. London 2007.and selected for the McKnight/Walker/mnartists.org "Five Minutes of Fame" for her animation of her interpretation of the Song to Inanna. A recipient of The Loft Literary Center Minnesota Writers' Career Initiative Grant, she received the 2011 Distinguished Teaching and Learning Award For Excellence in Mentoring and Advising from Augsburg College. She holds an MFA in creative writing from Vermont College of Fine Arts and a PhD in writing with a concentration in ancient women's writing from The Union Institute. Cass is the MFA Program Director. On the web: cassdalglish.com
---
JACK EL-HAI

Jack El-Hai is the Summer Residency Workshop Mentor. A writer of literary journalism and creative nonfiction, his books include The Nazi and the Psychiatrist (Public Affairs), Turbulent Air: A History of Northwest Airlines (University of Minnesota Press), and The Lobotomist: A Maverick Medical Genius and His Tragic Quest to Rid the World of Mental Illness (Wiley). The Lobotomist is currently in production as a TV series pilot for HBO and was previously adapted as a PBS American Experience television documentary. Jack's newest project, The Nazi And The Psychiatrist is slated for publication by PublicAffairs Books and has recently been optioned for stage and screen by Mythology Entertainment. The book explores the complex relationship between American psychiatrist Dr. Douglas M. Kelley and Nazi war criminal and Hitler's right-hand man Hermann Goering. It has been licensed for Italian translation to the venerable Rizzoli publishing company. It was previously licensed for French translation to the publisher Les Arenes.  In English, the book will be available in September 2013. Jack's essays and articles have appeared in The Atlantic,Wired, Scientific American Mind, The History Channel Magazine, American Heritage, and The Saturday Evening Post. Winner of a Minnesota Book Award and a McKnight Artist Fellowship, he is a past president of the American Society of Journalists and Authors. He holds an MFA in creative writing from Bennington College and an undergraduate degree in English from Carleton College.
---
CARY WATERMAN

Cary Waterman is a poet and creative nonfiction writer. Her published books include The Salamander Migration (University of Pittsburgh Press), When I Looked Back You Were Gone (finalist for the Minnesota Book Award), and Book of Fire (Nodin Press). Her work appears in many anthologies including A Geography of Poets, Poets Against the War and The Logan House Anthology of 21st Century American Poetry. She has won awards from the Bush Foundation, The McKnight Foundation and the Minnesota State Arts Board. She has had residencies and the Tyrone Guthrie Centre in Ireland and the MacDowell Colony. For many years she was Poet-in-Residence with the Minnesota Writers in the Schools program. She has an undergraduate degree in English from the University of Denver and a master's degree from Minnesota State University-Mankato.
---
HEID E. ERDRICH
Heid E. Erdrich is author of four poetry collections, most recently Cell Traffic: New and Selected Poems. She is Ojibwe from the Turtle Mountain Band in North Dakota. A long-time college professor, Heid is now an independent scholar and a frequent visiting writer at educational and cultural institutions across the country. In Minnesota, Heid often works with galleries to present exhibits focused on Native American visual art  and she directs Wiigwaas Press an Ojibwe language publisher. A recipient of awards from The Loft Literary Center, the Archibald Bush Foundation and elsewhere, Heid has four times been nominated for the Minnesota Book Award which she won in 2009 for her book National Monuments. She is a 2012-13 Minnesota State Arts Board grant recipient. She is graduate of Dartmouth College  and the Johns Hopkins Writing Seminars and holds a Ph.D. from the Union Institute.   Her poetry films were featured in Studio Presents: Indigenous Short Film Showcase, 2013, sponsored by the Augsburg Native American Film Series.  Read/Watch/Listen to MPR News on Heid – Pre-Occupied.
---
CHRISTINA LAZARIDI

Christina Lazaridi, a visiting writer in 2013, joins the mentor faculty in spring, 2015. She was nominated for an Oscar for her screenplay for One Day Crossing, a WWII short drama. Her latest produced screenplay, Coming Up Roses (starring Bernadette Peters) opened recently in New York.   She has consulted on projects developed for New Line and Bruckheimer Productions and has worked with Producers Eva Kolodner, Anne Chaisson, Lester Persky Productions and Academy Award Winner Documentarian Richard Kaplan. Her screenplays have won European Media Development Awards, a Student Academy Award, a Euroscript Development Award and a Chris Kazan Memorial Award. and her book on her screenwriting method, Stories that Change, was recently published by the Mediterranean Film Institute. A screenwriting professor at Princeton University, she also teaches Screenwriting at Columbia's Graduate Film Division.  She is a mentor for the Mediterranean Film Institute and is Academic Director and Screenwriting Facilitator for CineQuaNon Labs, Mexico. She is a graduate of Princeton University and holds an MFA in Screenwriting (Honors) from Columbia University School of the Arts.
---
SARAH MYERS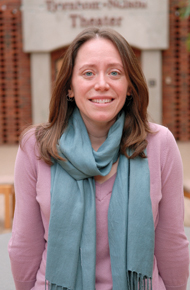 Sarah Myers is the designer of the Playwriting curriculum and will be Playwriting Mentor when the track opens in 2014.  She is a playwright and performer, whose work has been produced in venues across the country, from the Wild Project (New York), to the Blue Theater and the Off Center (Austin, TX), to Columbia College's Center for Book & Paper Arts (Chicago). Most recently, her adaptation of Durrenmatt's The Visit was performed by Sod House Theater in heritage villages throughout Minnesota (2013) and her adaptation of Chekhov's The Cherry Orchard,  directed by Luverne Seifert, toured historic homes throughout the state (2011 and 2012).  Her next project with Sod House, an adaptation of Ibsen's Peer Gynt, will be produced by Sod House in the summer of 2014. She is a recipient of the Waldo M. and Grace C. Bonderman Playwriting Award, a Pushcart Prize nominee, and a Heideman Award finalist. Her plays have been published by Playscripts, Inc., New Madrid Journal, and Dramatics Magazine. She holds an MFA in Playwriting and in Drama and Theatre for Youth & Communities and a PhD in Performance as Public Practice from the University of Texas at Austin, and she is a former company member with Austin-based Rude Mechanicals and longtime co-director of Rude Mechs' Grrl Action program. Sarah Myers teaches in the theater program at Augsburg College,  a program listed in Backstage magazine's 2012 Fall College Guide as one of the top five in the U.S. for theater majors who wish to continue their studies professionally
---
 CHERI JOHNSON
Raised in Lake of the Woods County in northern Minnesota, Cheri Johnson writes fiction, poetry,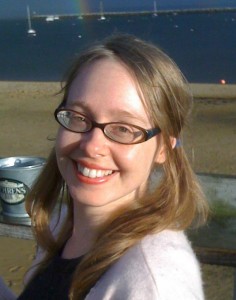 and criticism. She has won fellowships and residencies from Yaddo, The McKnight Foundation, The Bush Foundation, the Fine Arts Work Center in Provincetown, and the Minnesota State Arts Board. An alum of Augsburg College, she has also earned an MA in English and writing from Hollins University and an MFA in fiction from The University of Minnesota. Her fiction and other work has been included in magazines such as Glimmer Train Stories, Pleiades, Puerto Del Sol, New South, The Rio Grande Review, Phantasmagoria, and Provincetown Arts, and her chapbook of poems, Fun & Games, was published by Finishing Line Press in 2009. Her literary biographies of Jane Johnston Schoolcraft and Tess Gallagher are included in the reference work American Writers, and she is currently studying the life and work of the American fiction writer Jane Bowles. An interest in music, theater, and interdisciplinary art projects has led her to collaborate with the composer/playwright Aaron Gabriel and Theater Latte Da, as well as with composer/performer Julie Johnson and the Zeitgeist New Music Ensemble. She keeps a record of the music she listens to and the books she reads on her website, cheribooksandmusic.com.  Cheri will be a fiction mentor in the spring, 2016.
---
NEAL KARLEN

Neal Karlen is a former Newsweek and Rolling Stone staffwriter; and regular contributor to the The  New York Times. He has published eight books of creative nonfiction, on topics ranging from rock  music (Babes in Toyland) and minor league baseball (Slouching Toward Fargo) to linguistic history  (The Story of Yiddish) and religious fundamentalism (Shanda.) His family memoir (Augie's Secrets)  reached number one on Amazon's national "crime and criminal biography" bestseller list for eleven  hours, while two distant relatives still refuse to speak to him two years later. Karlen has collaborated  with the rock star Prince on a rock opera ("The Dawn") and delivered regular on-air essays for the  CBS national news show "America Tonight" and "Off Tenth." His fiction has appeared in The Indiana  Review, his books have been excerpted in The New York Times, and his stories and essays have been  widely anthologized. Karlen's work has been cited by the New York Public Library for literary  excellence; won the national Casey Award for best literary book with a baseball theme; and been  awarded the American Historical Society Prize.Analyzing Karlen's career, "The New York Review of  Books" critic Phillip Lopate opined that he was "hilarious, insightful, touching, informative….Karlen is simply one of the best, most sophisticated, and literate practitioners of journalism we have." At the other end of the literary spectrum, "Entertainment Weekly" officially gave Karlen his first "A" grade since high school, declaring "in [100 years], if college students are still taking a course called 'The Literature of Fact,' now taught by John McPhee at Princeton, Jen-X, written by Neal Karlen, should be required reading." A graduate of Brown University, he holds an M.A. in journalism from the University of Minnesota, and has lectured and taught creative writing from Bangor to Bakersfield.
---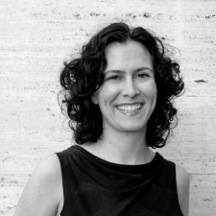 CARSON KREITZER
CARSON KREITZER's   Lasso of Truth is enjoying a National New Play Network Rolling World Premiere this year, with productions at Marin Theatre Company, Synchronicity in Atlanta, and Unicorn Theatre in Kansas City. She is a member of the Workhaus Collective, an alumna of New Dramatists, and a Core Member and current Board Member of the Playwrights' Center in Minneapolis.  She and composer Matt Gould are currently under commission from Yale Rep and New Dramatists for their new musical LEMPICKA. She is writing a new play for the Guthrie Theatre, supported by a grant from the Toulmin Foundation, and is the current Dowling Annaghmakerrig Fellow. Carson is the past recipient of two Jerome Fellowships and support from the NEA and NYSCA. She  was the first Playwrights of New York (PoNY) Fellow at the Lark Play Development Center. won two McKnight Advancement Grants and was recently named a McKnight winner — for the third time.   Her collection SELF DEFENSE and other plays is available from No Passport Press.   Carson will be a playwriting mentor in the spring, 2016.
---
Publishing Faculty
JOHN GATERUD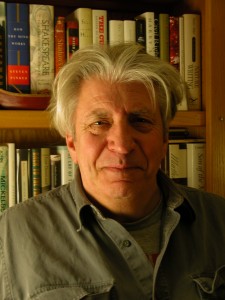 John Gaterud, will lead the Publishing Concentration in 2014 as Publisher/Mentor of the Augsburg Howling Bird National Book Prize.
He has long-time interests in writing, publishing, and "good stories well told." He has worked as a newspaper and magazine reporter, editor, graphic designer, and publisher and taught mass communications at Minnesota State University, Mankato. John holds journalism degrees from the University of Northern Colorado, the University of Oregon, and The Union Institute, where he earned his doctorate, with emphases in American studies and creative nonfiction writing. He currently serves as editor and publisher of Blueroad Press, a literary-arts book-publishing company he founded with his daughter, Abbey, in 2007. Blueroad titles have received writing and design prizes from Publishers Association of the West (short stories/poetry/anthologies), Midwest Independent Publishers (cover design and travel writing), Independent Publisher (essay/creative nonfiction), and Minnesota Book Awards (memoir/creative nonfiction). Excerpts from Philip Bryant's jazz/poetry memoir, Stompin' at The Grand Terrace, published by Blueroad, were featured in Best Music Writing 2010 (Da Capo). John brings to Augsburg College a love for the art and craft of bookmaking – from concept to print.
John Gaterud is the MFA Publishing Mentor and director of Howling Bird Press and the National Book Prize.