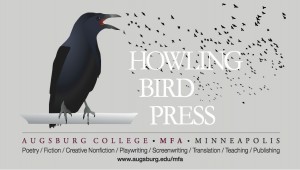 Poet Marci Vogel Wins First Howling Bird Press Literary Prize
A California poet whose book-length collection explores American life, art, history and culture through a range of eclectic voices, forms, images and styles has been awarded the inaugural Howling Bird Press Poetry Prize, sponsored by the MFA in Creative Writing program at Augsburg College.
Marci Vogel, a native of Los Angeles, was named winner of the national competition recently judged in blind reviews by students and faculty of the MFA editorial board. Her book, At the Border of Wilshire & Nobody, will be released next summer by Howling Bird, the program's publishing house.
In addition to publication of her collection, which will be edited, designed and marketed by students as part of their studies in the book trade, Vogel receives $1,000 first-place prize. In their decision, editors cited the poet's "attentive, imaginative use of language" among many impressive features of her work.
Vogel is currently a Provost's Fellow in the Ph.D. program in creative writing and literature at the University of Southern California, where she teaches in the honors writing program and served as poetry editor of the USC-based Gold Line Press. Before entering USC in fall 2012, she taught at a small elementary school for 22 years.
A long-time writer of prose, Vogel began writing poems in her forties. Her work has earned nominations for the Rona Jaffe Writers' Award, the "Best New Poets" anthology, the AWP Intro Journals Project and the Pushcart Prize. Vogel's translation from French into English of Andrée Chedid's 1956 poetry sequence, "In the Noon of Contradictions," was selected for the 2014 Willis Barnstone Translation Prize.
A book-launch event, including public reading for the author, will be held in Minneapolis during the Augsburg MFA Summer Residency.
Editors reviewed more than 60 submissions to the contest. Shortlist finalists included "The Poet Who Dated a Literalist" (aka "Arm Wrestling at the Iowa State Fair"), by Paul Brooke; "What to Pack, What to Carry," by Elizabeth Rees; and "That Ecstatic Junction," by Weston Cutter.
Submission for the 2016 Prose Contest will open April 1, 2015.
Read about Howling Bird & the publishing program in the Sunday, Nov.9, St. Paul Pioneer Press: "Augsburg's Howling Bird press ready to take off" by Mary Ann Grossman.
Publishing Program
The MFA publishing sequence  features a two-semester arc of courses designed to introduce students to various aspects of the trade, including acquisition, editing, graphic design, production, marketing, and distribution.
It is a concentration open to students in all genres: fiction, poetry, creative nonfiction, screenwriting, and playwriting.
John Gaterud, editor of Blueroad Press, is publishing mentor for the program. In addition to launching several publications during his career, Gaterud taught journalism and graphic design at Minnesota State University, Mankato, for 20 years. He currently teaches journalism in the undergraduate writing program at Augsburg College as well.
Other career concentrations available in the Augsburg MFA Program are teaching and translation.