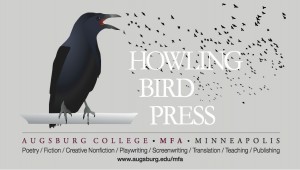 The Augsburg College MFA Program's new publishing house, Howling Bird Press, welcomes submissions of poetry for a 2014 national literary award. $1,000 prize, plus publication of book and 25 copies. Submit manuscript of 60 to 80 pages, along with $25 entry fee. Submission period April 15 to June 30. Publishing mentor John Gaterud, MFA students, and faculty will judge.
Contest Guidelines

Howling Bird Press, the new publishing house of the Augsburg College MFA in Creative Writing Program, welcomes submissions for a national literary prize in poetry. We seek unique works by singular voices.
Poems must be original and written in English (no translations, please). Poems may have previously appeared in magazines, anthologies, or chapbooks. No illustrations or artwork; text only.
The winning poet will receive $1,000 and publication of his/her book in Summer 2015, plus 25 copies. A book-launch event, including public reading for the author, will be held in Minneapolis.
Augsburg MFA Publishing Concentration students and faculty will serve as contest judges. All entries will be judged blind.
Submission period: April 15–June 30, 2014
Manuscripts must be between 60 and 80 pages in length, and submitted ONLINE, along with $25 entry fee, to: augsburghowlingbirdpress.submittable.com
Submission format: Word documents (.doc, .docx, .rtf or .txt) and PDFs are acceptable. Be sure each new poem starts on a new page. No hard-copy submissions. Simultaneous submissions are acceptable; please advise us if accepted elsewhere.
Manuscript prep: Include cover/title sheet with your name, address, and contact information, including email and phone, along with table of contents for the manuscript. A brief biography is optional. An acknowledgments pages listing publication history may be included. However, avoid putting your name on the manuscript pages themselves.
Howling Bird Press reserves the right to reject any manuscript for any reason.
Publishing Program
The MFA publishing sequence will feature a two-semester arc of courses designed to introduce students to various aspects of the trade, including acquisition, editing, graphic design, production, marketing, and distribution.
It is a concentration open to students in all genres: fiction, poetry, creative nonfiction, screenwriting, and playwriting.
John Gaterud, editor of Blueroad Press, will serve as publishing mentor for the program. In addition to launching several publications during his career, Gaterud taught journalism and graphic design at Minnesota State University, Mankato, for 20 years. He currently teaches journalism in the undergraduate writing program at Augsburg College as well.
Other career concentrations available in the Augsburg MFA Program are teaching and translation.