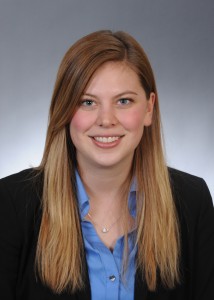 Megan Steffl graduated from Augsburg in 2013 with a degree in sociology. She did research with Professor James Vela-McConnell during summer 2011. She is now a law student at George Washington University in Washington, D.C., where she just completed her first year of study.
We caught up with her about what she's up to now, how the skills she learned as an undergraduate researcher still help her today, and what tips she has for current Auggies.
How did you first get involved with research as an undergrad? Was it something you were expecting to get involved with or something that developed from your other experiences at Augsburg?
When I first came to Augsburg I wasn't even sure what my major would be, and research was something I had not thought about much. However, I had friends that participated in URGO the summer before me, and what they were able to accomplish really inspired me. By the time URGO applications came around I had decided on a degree in Sociology, and so I sought out a professor that would be willing to work with me.
What tools did you learn as an undergrad researcher that you carried into your current position as a legal intern and student at GWU?
Time management and discipline! I met with my professor weekly, but much of my project was on my own time and required me to stay on top of things without someone telling me what to do and when. This is very similar to law school, because all of your grades are based off a single exam at the end of the semester. It taught me how to break down a project, or a semester, into smaller pieces instead of cramming at the end. This also helped me in my job before law school, because employers want to see that you are a self-starter who will get things done without being micromanaged.
Briefly describe your current research interests/law specialties (and what your URGO summer project was!).
Currently my research centers around my legal internship. Most recently I have researched legal issues surrounding employment law, collective actions and criminal welfare fraud in the District of Columbia. As a second year law student I will be on a journal and write a note, where I will research a legal issue in depth and suggest a legal solution. I am interested in the intersection of technology and law, as well as our laws surrounding maternity and paternity leave. Naturally, I will incorporate my Sociological background into any study I do.
My URGO summer project was a study on friendships between Christians and Muslims. It consisted of a literature review, and interviews with sets of friends where one was Christian and the other Muslim. There has always been tension between the two religions, but especially so since 9/11. I saw that our own community was struggling with this tension as the Somali population grew in Minneapolis, and I wanted to learn what made friendships between the two parties work, and how we could create more positive relationships.
I am still interested in fostering peaceful relationships between people of all beliefs, but now my tool is the law. I hope to become an employment law attorney and protect individuals from employment discrimination.
What's the most exhilarating part of your current job? (Or—what does your average work/school day look like?)
Right now I am working in Washington, D.C. in what is called Judiciary Square, as it is home to most of the city's courthouses. Every morning I come to work in Abraham Lincoln's former office, half a block from the spot on which he gave the Emancipation Proclamation. The location and the buzz of people alone are exhilarating, but what happens in the courthouse is even more fun.
I love dissecting cases, researching the law, and writing briefs, but the best part of my job is going to court. Not only do I get to see attorneys in action, and see what my career might be like, but some wild things happen in criminal court. By the end of this summer I will have a whole collection of stories.
What tips do you have for current Auggie undergrad researchers about how they can make the most of their time in college?
Be engaged and get to know your professors. Be engaged by participating in activities that demonstrate your interest in a particular subject. You do not have to be a member of every group, and the organization does not need to be completely on point, but it's great to be able to show an employer or graduate institution that you really are passionate about something by pointing to an organization you participated in.
Get to know a few professors well. Again, don't spread yourself too thin, pick a few professors that specialize in your area of interest or can give you advice, and go talk to them in office hours. Tell them what you want to do and ask for their advice. They are there to help and they will! This especially applies to the professor you are working with on your research project. If you don't have a class with them next semester, go talk to them anyway!
Make sure to maintain those relationships after graduation as well, you never know when you might need a letter of recommendation, and it is hard for a professor to write one if they don't remember you because they haven't heard from you in years. Another small piece of advice, if you plan to apply to graduate school, ask your professors to write a letter of recommendation while you're still in school. It's much easier to write a letter when you're still in class with the professor and your performance is fresh in their mind.