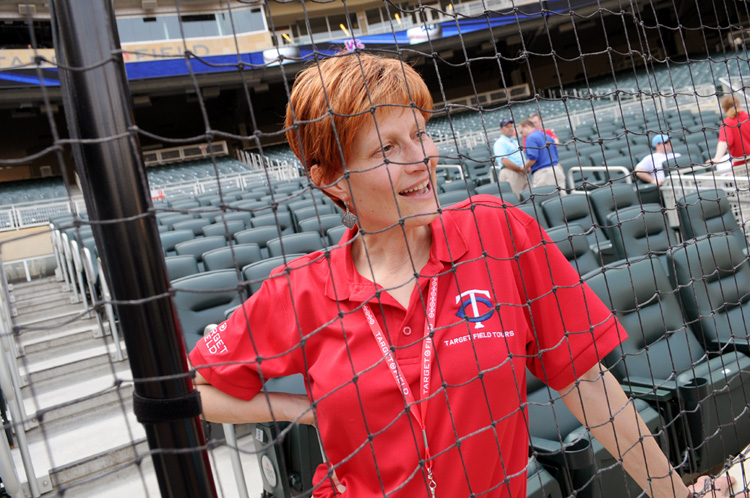 KRISTIN ANDERSON teaches courses on the history of art and architecture in the Department of Art. In 2005, she received the Distinguished Contributions to Teaching and Learning award for Excellence in Teaching.
Her courses include art history and architectural history surveys as well as more specialized offerings like American Art, Scandinavian Art, and Women and Art. She also teaches a popular course, The Designed Environment, about the architectural and urban history of the Twin Cities. The class meets at a different location for each session, bringing students face-to-face with the buildings and spaces they study.
Kristin's current writing and research is focused on sports architecture, and she is co-authoring a book on the history of sports facilities in the Twin Cities for the University of Minnesota Press. Other research interests include Scandinavian immigrant folk art and the altar paintings tradition of the Norwegian-Americans.
A popular speaker in church and community settings, Kristin also gives tours and presentations at Target Field, focusing on architecture, sustainability issues, women in baseball, and art at the ballpark.
From 2013 until 2018, Kristin served as the president of the Minnesota Chapter of the Society of Architectural Historians (MNSAH), and she was the local co-chair for the 2018 Society of Architectural Historians International Conference in St. Paul. She serves on the Minnesota State Review Board for National Register of Historic Places designations, and she was the chair of this board from 2015 until 2022
Education
A.B. Oberlin College (Art History)
M.A. University of Minnesota (Art History)
M.A. Luther Seminary (Church History)
Ph.D. University of Minnesota (Art History: American Art, Architecture, and Popular Culture)
Selected Publications
"How (Not) to Build a Ballpark: The 1884 Minneapolis Grounds," in The National Pastime: Short but Wondrous Summers, Baseball in the North Star State (Phoenix: Society for American Baseball Research, 2012). (Co-author C. Kimball).
"The Mysterious 'Base Ball Park Minneapolis' and Other Photos: Reading the Visual Evidence," Minnesota History 63/1 (Spring 2012) (co-author C. Kimball).
"The Saints on Sunday: Ballparks and Sabbatarianism in St. Paul," NINE: A Journal of Baseball History and Culture 17/1 (Fall 2008), 1-15 (co-author C. Kimball).
"Designing the National Pastime: Twin Cities Baseball Parks," Minnesota History 58/7 (Fall 2003), 338-352 (co-author C. Kimball).
Norwegian-American Church Art: Altar Paintings by Herbjørn Gausta, Sarah Kirkeberg Raugland, and Arne Berger (Decorah, IA: Vesterheim Norwegian-American Museum, 2001).
"Altars in the Norwegian-American Church: An Opportunity for Folk Expression," in Material Culture and People's Art of the Norwegians in America, edited by Marion John Nelson (Northfield, MN: Norwegian-American Historical Association, 1994), 199-226.