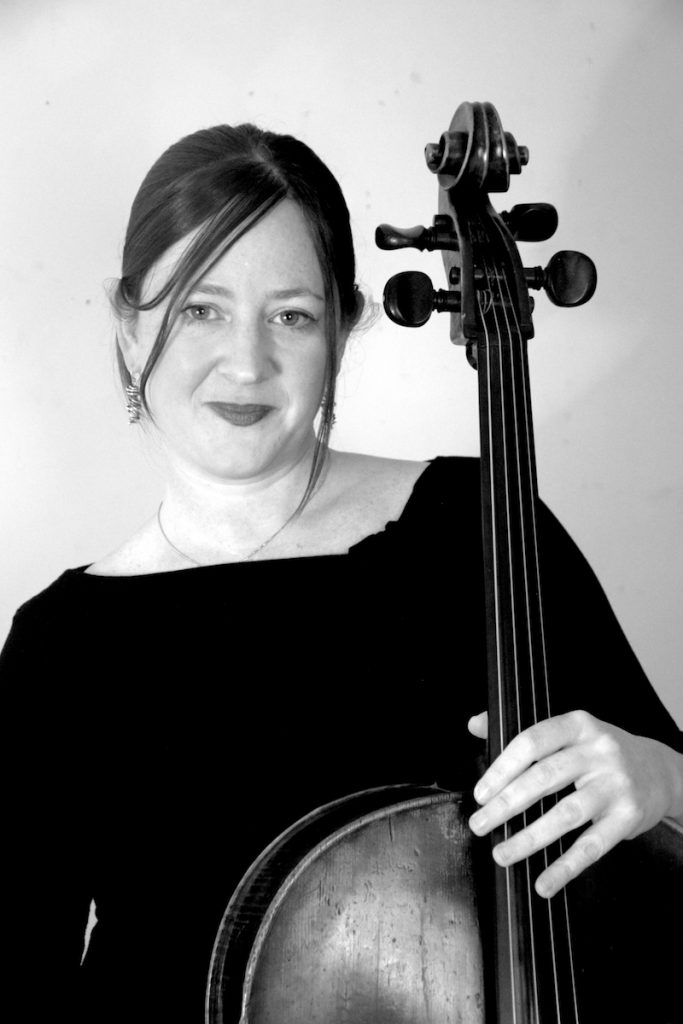 Currently based in Minneapolis MN, Jane Cords-O'Hara is a busy freelance cellist who performs with a wide variety of groups. She is a member of The Knights, as well as Memphis based Iris Orchestra and Ladyslipper Ensemble in Minneapolis. She has performed, toured and recorded with numerous other ensembles over the years including the St. Paul Chamber Orchestra, Irish Chamber Orchestra, Orchestra of St. Luke's, Argento, Da Capo Chamber Players, MN Opera, Yo Yo Ma and the Silk Road Ensemble, String Orchestra of NYC and A Far Cry. Equally comfortable in many styles, Jane has played a large amount of new and spectral music, as well as a more recent venture of baroque cello, and has performed with Lyra Baroque, Bach Society of MN and the WolfGang Ensemble.
As a member of the The Knights, a NYC based chamber orchestra, Jane has been performing since 2004. Nominated for a Grammy in 2017, The Knights have collaborated with artists such as Yo Yo Ma, Gil Shaham, Susan Graham, Dawn Upshaw and Bela Fleck. Recent appearances have been at the Caramoor, Ravinia, Stillwater, Tanglewood and Ojai Festivals, Central Park's Naumburg concert series, Trinity Wall Street and Carnegie Hall. The Knights have been in residence at BRIC in Brooklyn for several seasons. Internationally, Jane has appeared with The Knights in Germany, Austria (at the Musikverein), Ireland and at the Canary Island's Music Festival. She can also be heard on several recordings on the Sony Classical label, and also on the album Azul, featuring Yo Yo Ma as soloist.
Jane has a deep love of chamber music. As a member of Ladyslipper Ensemble, Jane performs regularly around the Twin Cities. She is featured on the album The World's Highway, recorded at MPR last season. As a former member of Syrius Piano Trio, she performed all over Ireland, and internationally at London's Conway Hall, Carnegie's Weill Hall and Brazil's Musica Nova festival in Sao Paulo. Syrius Trio recorded the complete piano trios of Saloman Jadassohn on the Toccata Classics label. She spent many summers performing at the West Cork Chamber Music Festival in Ireland.
Before relocating to the Twin Cities in 2014, Jane lived in NYC. She was Artist-in-Residence at International House from 2004-2005, and made her recital debut at Carnegie's Weill Hall in 2006 as a winner in the Artist's International competition.
Jane is a passionate teacher. She has a private studio in Minneapolis and also teaches at the Blake School. She was on faculty at the International Cello Institute at St Olaf college in 2017 and at the Northern Lights Chamber Music Institute in 2018. She spent several summers mentoring young aspiring composers at the Walden School in New Hampshire.
Born and raised in Ireland, Jane Cords-O'Hara began playing the cello at the age of 9. She studied with Hannah Roberts at the Royal Northern College of Music in Manchester, UK, before moving to New York to complete her studies with Timothy Eddy at Mannes College of Music. She has attended the International Musician's Seminar at Prussia Cove, Holland Music Sessions, London Masterclasses and the Conservatoire Americaine at Fontainebleau, France. She was chosen to play at masterclasses at the World Cello Congress III and the International Cello Festival in Manchester, UK.
Jane lives with her husband, Dan and daughter Aoife in Minneapolis.