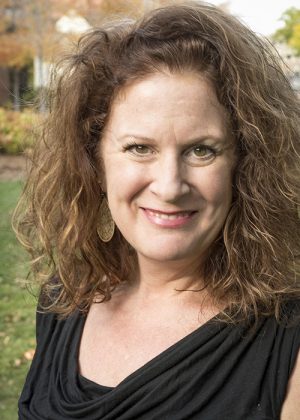 Darcey Engen is a professor and chair of the Augsburg University Theater Arts Department, where she teaches such courses as Advanced Acting, Voice for the Stage and Screen, and Movement for the Actor. She has also directed 19 main stage productions during her 23 years at Augsburg, the stylistic breadth of the works ranging from Ovid and Shakespeare to contemporary playwrights Caryl Churchill and Timberlake Wertenbaker, musicals to modern dramas.
The recipient of an Augsburg "Excellence in Scholarship" award in 2013, Darcey served as co-chair of Augsburg's Sesquicentennial celebration in 2019. She is also the co-founder and executive director of Sod House Theater.
After receiving her Bachelor of Arts degree from Augsburg, Darcey earned her Master of Fine Arts in acting from the University of Wisconsin. She was an assistant professor at the University of Kentucky and the University of Northern Iowa before joining the Augsburg faculty in 1997.
Darcey has performed with such Twin Cities-based companies as Theatre de la Jeune Lune, Red Eye Collaboration and Brave New Workshop, and created an original work about her journey through motherhood, "I'm Telling," which she performed at the Playwrights' Center, Open Eye Figure Theatre, Illusion Theater and elsewhere.
In 2011, Darcey and her actor/director husband, Luverne Seifert, brought a production of Anton Chekhov's "The Cherry Orchard" to several historical mansions in Minnesota, with the help of the Minnesota Historical Society. This initial effort grew into Sod House Theater, which – aided by funding from the Minnesota State Arts Board — tours the state, creating collaborative productions involving Twin Cities-based professional theater artists and community performers from the towns. The repertoire Sod House chooses is always designed to resonate with issues faced in the state's rural communities.
Darcey has directed or performed in such Sod House productions as Friedrich Durrenmatt's "The Visit"; Henrik Ibsen's "Peer Gynt" and "An Enemy of the People"; and "Swede Hollow Ghost Sonata," an adaptation of an August Strindberg drama created in collaboration with the dance company, Black Label Movement.
Pronouns: She/Her/Hers