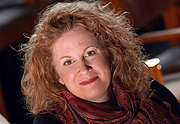 Darcey Engen is an Associate Professor and Chair of the Theater Arts Department at Augsburg University. She teaches over seven courses in the department including Advanced Acting, Voice for Stage and Screen and Movement for the Actor as well as directs a main-stage production each season. She earned her M.F.A. in acting from the University of Wisconsin-Madison where she specialized in voice and movement training for the stage. She specializes in vocal production for the stage with particular interests in martial arts actor training and feminist theatre.
Her past performance experience in Minneapolis includes Theatre de la Jeune Lune, Red Eye Collaboration, Dudley Riggs' Brave New Workshop among others. In 2006, Darcey performed and toured I'm Telling; a show she originally conceived and developed. Versions of the piece have performed at Open Eye Figure Theatre (2007) and Illusion Theatre (2009) in Minneapolis. The piece stages both the dark and tender stories of her personal journey through motherhood.
Beginning in the summer of 2011 and with the support of Minnesota Legacy Funds, Darcey and her husband Luverne Seifert began traveling rural Minnesota with their production of The Cherry Orchard. With their troupe of the top professional performers from the Twin Cities, the group performed in seven small towns alongside community actors. The Cherry Orchard performed in Historical Homes in each community with the help of the Minnesota Historical Society.
In 2013, Darcey and Luverne formed their company Sod House Theater and traveled again to small rural communities with a production of The Visit. This past summer they traveled to Crookston, Blue Earth and Lake Benton Minnesota with an adaptation of Peer Gynt.
Education
B.A. Augsburg University
M.F.A. University of Wisconsin-Madison