Evren Guler
Associate Professor, Psychology Department Chair
CB 32
612-330-1135
guler@augsburg.edu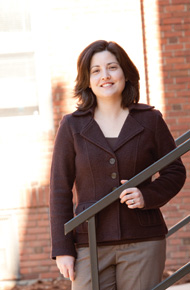 Evren Güler is a developmental psychologist specializing in cognitive development. She joined the Augsburg University Faculty in 2011. She teaches undergraduate courses in child development, adolescent development, and research methods and statistics in the psychology department. Her current primary research interests include understanding the cognitive control mechanisms behind autobiographical memory retrieval and functions of autobiographical memory.
Education
B.A. in Psychology, 2000, University of North Carolina at Chapel Hill
Ph.D. in Developmental Psychology, 2007, University of Minnesota Twin Cities
FREQUENTLY TAUGHT COURSES
PSY 252: Adolescent and Young Adult Development
PSY 250: Child Development
PSY 215: Research Methods and Statistics I
PSY 203: Lifespan Development
PRIMARY RESEARCH INTERESTS
Cognitive development
Memory development in childhood
Neural correlates of memory development
Autobiographical memory
Socialization of memory
Selected Scholarship
Recent publications
Güler, O. E., & Mackovichova, S. (2018). The role of executive function in autobiographical memory retrieval: Does the type of cue word matter? Memory. DOI: 10.1080/09658211.2018.1513040
Larkina, M., & Güler, O. E. (2014).  Socialization of deliberate and strategic remembering. In P. J.Bauer and R. Fivush (Eds.). Wiley-Blackwell Handbook on the Development of Children's Memory. Oxford, UK: John Wiley & Sons, Ltd.
Güler, O. E., & Thomas, K. M. (2013). Developmental differences in the neural correlates of relational encoding and recall in children: An event-related fMRI study. Developmental Cognitive Neuroscience, 3, 106-116.
Bauer, P. J., Doydum, A. O., Pathman, T., Larkina, M., Güler, O. E., Burch, M. M. (2012).  It's all about location, location, location: Children's memory for the "where" of personally experienced events. Journal of Experimental Child Psychology, 113, 510-522.
Güler, O. E., Hostinar, C. A., Frenn, K. A., Nelson, C. A., Gunnar, M. R., & Thomas, K. M. (2012). Electrophysiological evidence for altered memory processing in children experiencing early deprivation. Developmental Science, 15(3), 345-358.
Recent presentations
Güler, O. E., Hunt, R. H., Jorgenson, L. A., & Thomas, K. M. (May, 2014). White matter organization predicts episodic memory in early childhood. Presented at the Annual Meeting of the Association for Psychological Science, San Francisco, CA.
Güler, O. E., Thomas, K.M. (May, 2010).  Neural bases of the development of relational memory.  Poster presented at the Human Brain Mapping Conference, Barcelona, Spain.
Güler, O. E., Frenn, K.A., Donzella, B., Monn, A.R., Clarke, S.B., Gunnar, M.R., Pollak, S.D., Nelson, C.A., Thomas, K.M. (April, 2009).  Effects of institutional deprivation on a continuous recognition memory task.  Poster presented at the Biennial Meeting of the Society for Research in Child Development, Denver, CO.