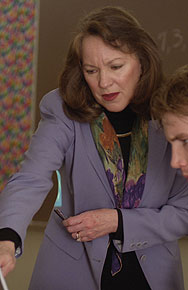 Anne Kaufman has been a member of the Augsburg University community since 1987. She served on the State Board of Teaching for eight years, and was the only representative on the 11-person board that represented all of the 27 teacher preparation institutions.
"You learn best by engaging in the process yourself. It's good to put the students in the role of being the teacher. You put them in charge of their own learning."
"I like the small school atmosphere. It is a more nurturing, close-nit environment."
The education program at Augsburg also has something very unique to offer in the Paideia program. Paideia is an educational program that was presented by Mortimer Adler and the Paideia Group in 1982. It is designed for all students in order to better educate our future citizens. The goals are to prepare students to earn a living, to be a citizen, and to be a lifelong learner. Anne is the director of the Paideia program at Augsburg, which was started in 1989.
She said she feels it's important to not only be accessible to students, but be a mentor as well. "Many of my students feel free to drop in whether they have a specific advising question or just to chat."
Education
B.S. University of Minnesota
M.A. University of Minnesota
Ph.D. University of Minnesota
Current Research Interests
Paideia – looking for ways to measure critical thinking skills through Paideia seminars.
Working with public schools to "action research."