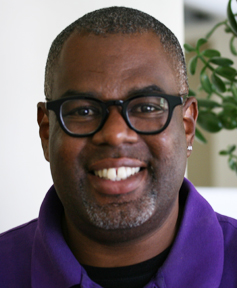 Dr. Terrance Kwame-Ross is an Associate Professor in the Education Department, Augsburg University. Terrance also holds a Visiting Faculty-Lecturer appointment, in the School of Social Work, Youth Development Leadership (YDL) Graduate Program, University of Minnesota.
Dr. Kwame-Ross' scholar research and practice focus on how humans learn, grow, and stay the same, over their life span. Terrance has taught at the elementary and middle-level grades in public schools, Co-founded and served as Principal and Director of New City School, in arts-infused academic and social-emotional integrated, Public Charter School, located in Northeast Minneapolis, Minnesota; Created community-base after-school programs for young people for creative self-expression; Served as a curriculum developer, trainer, and consultant to many formal and non-formal organizations locally and nationally; Worked in residential treatment programs and camping settings directing and facilitating multi-cultural programs for the Wilder Foundation, St. Paul, Mn. Consultant to local, state and national School Districts around policy, practice, and educational research.
In addition, Dr. Kwame-Ross also served as Clinical Supervisor for My Home Inc., a community-based African-American Transition Institute in St. Paul, MN, where he supervised and led men's parenting, anger, and domestic abuse programs and groups for 18 years for Black and Brown males and their families.
Terrance also was the Executive Director of The Origins Program, a nationally recognized non-for-profit equity training center for teachers.
Current Research Focus and Projects
The Black-male-youth-experience
The Academic Experience Gap in Middle and High School Among Black and Brown Males
Black Males in Teaching
Meaningful Connections with Young Adults through the Exploration of Faith and Vocation
Teacher-Youthworker as Educational Scientist
Theoretical Frameworks
Constructionism
Socio-cultural/socio-historical Theory and Analysis
Bio-ecological Theory
Situated Thought and Practice; Community of Practice or Communities of Practices
Education
BAE, Elementary Education, National-Louis University
M Ed., Youth Development Leadership, University of Minnesota
Ph.D., Education, University of Minnesota, Twin Cities focusing on Specialized Learning (Adult and Youth Development and Learning Theory, over the life-course)