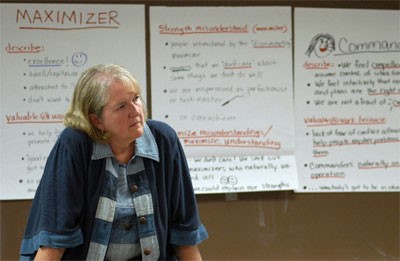 Velma Lashbrook teaches in the Master of Arts in Leadership program, where she facilitates courses in self-identity and personal growth, coaching and consulting, organization theory and leadership, positive psychology and leadership, popular music and leadership, and research methods. Her primary interest is to help students broaden and deepen their understanding of people and organizations and develop their own strengths-based approach to leadership. She enjoys teaching MAL students, because of their rich and diverse backgrounds, and their genuine commitment to becoming more effective leaders.
She served as the Director for the Center for Teaching and Learning from 2010-13, and was responsible for developing faculty, staff, and leaders to help our students become informed citizens, thoughtful stewards, critical thinkers, and responsible leaders. In that role, she facilitated a number of workshops and book groups on teaching, scholarship, leadership, staff development, inclusiveness, and community building. Because organizations and people are continuously changing, she believes that teaching and leadership are professions that are never mastered and continuous learning is essential to growth.
Prior to coming to Augsburg University, she spent 20 years with Wilson Learning Corporation, a global training and development firm. As Vice President of Global Research and Development, she led a group of researchers, instructional designers, and publishers in designing leaning and measurement products and services to help organizations improve leadership, team, sales, and service effectiveness. She is particularly proud of selecting and retaining a team of talented, interdisciplinary professionals who developed products that made a difference in people's lives, as well as their work.
She has extensive consulting experience in education, business, and nonprofit organizations. Her primary organizational specialties are strategic planning and implementation, staffing, and leadership development. She has also worked as a consultant, evaluator, and workshop facilitator with educational institutions, where she has helped address curriculum and instructional design, deep and active learning, blended learning, and assessment and program evaluation issues.
"My formal education in communication and educational psychology equipped me with strong skills in research and learning design. My professional experiences have allowed me to apply those talents to a wide range of organizational issues in diverse settings. I have been blessed with exceptional laboratories for lifelong learning."
For more information see Velma Lashbrook's LinkedIn Profile.
EDUCATION
B.S. Iowa State University
M.S. Illinois State University
Ed.D. West Virginia University