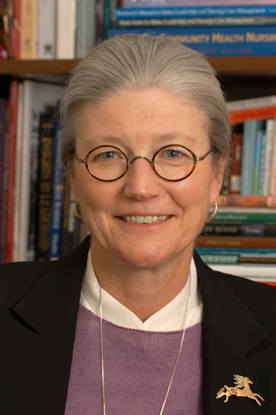 Professor, Department of Nursing
In 2014, Dr. Leuning retired as Department Chair and assumed a full-time teaching role in the graduate and undergraduate nursing programs. Her areas of expertise include transcultural nursing, community and public health nursing, experiential teaching-learning pedagogy, and curriculum and program development. She has practiced as a community/public health nurse and as an oncology and home-hospice nurse. Additionally, Cheryl has held a variety of leadership roles, including serving as Chair of the Department of Nursing at Augsburg University from 2002 – 2014, a nursing supervisor of a visiting nurse association, and as a nursing education coordinator in a major health care system. Prior to joining Augsburg University in September of 2002, Cheryl was a member of the faculty at Augustana University in Sioux Falls, South Dakota, where she taught in both the undergraduate and graduate nursing programs and coordinated the Master of Arts in Nursing Program.
At Augsburg, Cheryl is an advocate for culturally rich and diverse educational experiences that integrate transcultural nursing concepts and practice into the undergraduate and graduate nursing curricula. Together with her colleagues, she leads practica and teaches courses in a variety of cultural contexts and settings, including Harmony, MN, the Republic of Namibia and Pine Ridge, SD.
Dr. Leuning's research has explored health and illness care provisioning among pastoral cattle herding people in Namibia; Namibian women's experiences of empowerment when they are able to access to safe child care; and the meanings and expressions of care and caring for elders in urban Namibian families. Most recently, her scholarship is focused on strengthening nursing leadership and reinforcing quality improvements in health service delivery in rural Namibia through community-based education and practice. This collaborative program, undertaken with the Ministry of Health and Social Services (MoHSS) in Namibia, began in 2011 as a response to the need for continuing professional development for Namibian nurses serving in rural communities, while at the same time offering graduate nursing students at Augsburg opportunities to participate in an educational study abroad program in rural Africa. Explicitly, the program builds relationships with Namibian nurses and offers a unique experience within local rural African communities. A preliminary analysis indicates that the program is strengthening nurses' leadership knowledge, skills, and community-based practice effectiveness in local contexts and, as such, indirectly improving health outcomes and quality of life for rural populations. Further study is anticipated to reveal lasting benefits to both Namibian and American nurses who participate in the program.
Dr. Leuning's publications and presentations focus on advancing the science and art of transcultural nursing across care settings and within a global society. She is a consultant to the University of Namibia School of Nursing and a peer reviewer for the Journal of Transcultural Nursing and the Namibia Development Journal, a multipurpose, accredited, electronic journal issued by the University of Namibia. From 2007 through 2008, Cheryl served as the President of the International Transcultural Nursing Society (TCNS), an organization that seeks to "enhance the quality of culturally congruent, competent, and equitable care that results in improved health and well being for people worldwide." Dr. Leuning holds an advanced certification in Transcultural Nursing and is a member of the Transcultural Nursing Scholars group, which was established "to promote the advancement of a body of knowledge, initiate and disseminate research, teaching and learning, and the clinical applications of transcultural nursing and healthcare globally."
Education
B.A., Augustana University – Nursing
M.S., University of Minnesota – Public Health Nursing
Ph.D., University of Utah – Nursing
Publications
Enestvedt, R., Clark, K.M., Freborg, K., Miller, J.P., Leuning, C., Baumgartner, K., Loushin, S., McHale, K. & Schuhmacher, D. (2018). Caring in the margins: A scholarship of accompaniment for advanced transcultural nursing practice. Advances in Nursing Science, 41(3), pp – pp. 230–242.
Clark, K.M., Miller, J.P., Leuning, C., & Baumgartner, K. (2017). The citizen nurse: An educational innovation for change. Journal of Nursing Education, 56(4), 247-250.
Delaney, C., Westra, B. Dean, P., Leuning, C. & Monsen, K. (2014). Informatics and Integrative Healthcare. In M. Kreitzer & M. Koithan (Eds.), Integrative nursing. Cary, NC: Oxford University Press.
Leuning, C. & Hailonga, P. (2005). Transforming what is known about HIV/AIDS into culturally appropriate protective practices in Namibia:  A Community-based Educational Project. Published in proceedings of the International Symposium on "The HIV/AIDS Pandemic and Gender in Tanzania and the Silent Issues to Tackle."  Sponsored by Tumaini University and Universities, Colleges, and Seminaries of the Evangelical Lutheran Church in Tanzania (ELCT) and the Evangelical Lutheran Church in America (ELCA).
Leuning, C., Small, L. & van Dyk, A. (2002). Elder care in urban Namibian families: An ethnonursing study. In Leininger, M. & McFarland, M. (Eds.), Transcultural Nursing: Theory, Concepts, and Practice. New York, NY: McGraw-Hill, Inc.
Leuning, C., Swiggum, P., Wiegert, H. M., McCullough-Zander, K. (2002). Proposed standards for transcultural nursing. Journal of transcultural nursing 13(1), 40-46.
Leuning, C. (2001). Advancing a global perspective: The world as classroom. Advances in nursing science 14(4), 298-303.
Leuning, C., Small, L. & van Dyk, A. (2000). Meanings and expressions of care and caring for elders in urban Namibian families: A transcultural nursing study based on Leininger's culture care theory of nursing. Curationis 23(3), 71-80.
Brendtro, M. & Leuning, C. (2000). Nurses in churches: A population-focused clinical option. Journal of nursing education 36(6), 285-288.
Bunkers, S., Nelson, M., Leuning, C., Crane, J., & Josephson, D. (1998). The health action model: Academia's partnership with the community. In Cohen, E. & DeBack, V. (Eds.), The Outcomes Mandate: Case Management in Health Care Today. New York: Mosby, Inc.
Current Research Interests
Transcultural meanings and expressions of care and caring
Community-based nursing education and models of practice
Strengthening nursing leadership in rural communities
Global perspectives in health care delivery
Experiential teaching-learning pedagogies
Curriculum development and implementation
Areas of Teaching Responsibility
Transcultural nursing knowledge development and application
Theoretical foundations for practice and research
Advancing a global perspective through experiential teaching-learning
Cultural immersion—pedagogies and practice
Program and curriculum design and development