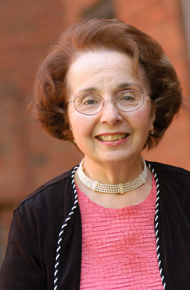 Norma Noonan is Professor of Political Science and directs the International Relations major at Augsburg. She came to Augsburg in 1966.
"The Political Science Department at Augsburg has always tried to cover the scope of political science. Not all colleges are able to do this. We have talented and gifted faculty with wide ranging interests and respect both locally and nationally for their work."
Norma feels it's important to impart the knowledge she has gained through her extensive training and experiences in the field to her students. She wants them to share her enthusiasm for the study of comparative politics and international relations. Advising is also very important and she gives her advisees a lot of personal attention.
"They feel they are getting the best advice I can give. Some even come back to consult with me after graduation."
Trained in comparative and international politics, her special areas of interest include Russia, Russian foreign policy, political leadership, women and leadership. She has published numerous articles and recently published a book, Women in Russian Politics and Society, for which she was a major contributor and co-editor, with Greenwood Press. A frequent speaker on foreign policy and on Russia in the Twin Cities, she has also served as a commentator on Minnesota Public Radio.
Education
B.A. University of Pennsylvania
M.A. Indiana University
Ph.D. Indiana University