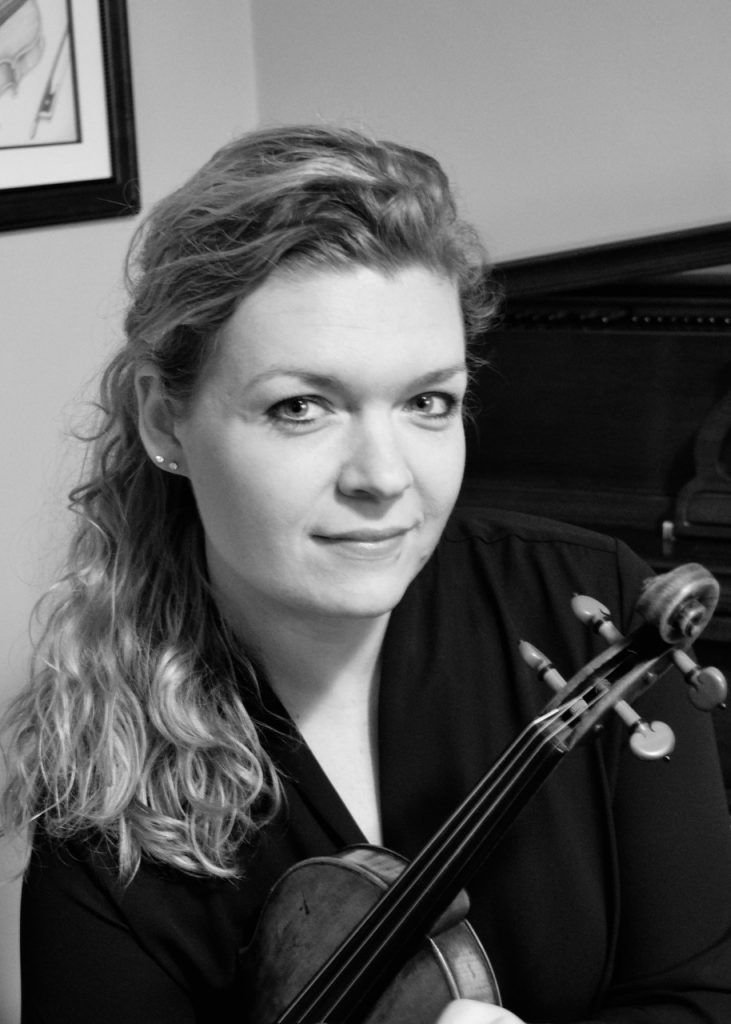 Elise Meichels Parker is assistant principal second violin of the Minnesota Opera Orchestra, and is an active part of the Twin Cities music scene. She is a member of Jamison Ensemble, a Twin Cities based chamber music collective which expands and contracts depending on repertoire.  Elise has recorded and performed with the Guthrie Theater, STRINGenius, and the Children's Theatre Company.   Hennepin Theatre Trust's Broadway show performances include My Fair Lady, Hello Dolly!, A Gentleman's Guide to Love & Murder, Rodgers & Hammerstein's Cinderella, The King and I, and several tours of The Lion King.    Elise also enjoys playing popular music, including performances with Stevie Wonder, The Who, The Eagles, Idina Menzel, Mannheim Steamroller, Evanescence, Celtic Thunder, Josh Groban, Amy Grant and Weird Al Yankovich. Elise has been a guest artist for ensembles including VocalEssence, Candlelight Concerts, LOFTrecital, Ladyslipper Ensemble, American Composers Forum, and An Opera Theatre.   The Star Tribune has described her playing as "soulful," while the Pioneer Press wrote "Elise Parker wrings pure beauty from her violin."
As an avid orchestral musician, Elise has performed with numerous ensembles, including the Houston Grand Opera, Houston Ballet, San Antonio Symphony, North Carolina Symphony, Madison Symphony Orchestra, Madison Opera, Madison Ballet, Wisconsin Chamber Orchestra, South Dakota Symphony, Duluth Superior Symphony Orchestra,  KUHF Houston Public Radio Chamber Players, 21/20 Contemporary Ensemble at the Shepherd School of Music, and the Bach Dancing and Dynamite Society. 
Elise underwent several years of training in string pedagogy throughout the country. Consequently, she differentiates her instructions to young musicians, in both private and group settings, so they may confidently develop skills to their full potential. Since 2010, Elise has been a teacher for the Augsburg University Suzuki Talent Education Program, a nationally and internationally recognized program.  She also visits dozens of Minneapolis and St. Paul public schools giving classroom demonstrations, all-school orchestral performances, and conducting high school orchestra sectionals.  She has been adjunct faculty at Augsburg University since 2019. 
Elise received a Bachelor's degree in music performance from the University of Wisconsin-Madison on a School of Music scholarship. From there she attended Rice University, earning a Master's degree and was the recipient of the Distinguished Fellowship of Violin Award. She has studied privately with Kathleen Winkler, Vartan Manoogian, Maseo Kawasaki, Naoko Tanaka, and Nancy Lokken.
Elise plays on a Gasparo da Salò composite violin, whose back and ribs were made in 1580 in Brescia, Italy.  Da Salò is sometimes credited as the co-inventor of the modern violin.