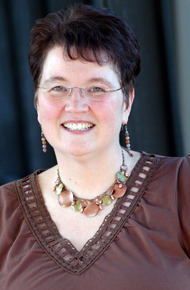 Bridget Robinson-Riegler has been at Augsburg since 1994. She is a cognitive psychologist who teaches cognitive psychology, principles of psychology, and the keystone internship. She has very high expectations of her students because she feels they are capable of meeting those expectations. She is challenging but fair. She feels a close personal connection with faculty is the best recipe for success and she tries to facilitate that type of relationship with her students. She loves psychology because it is applicable to everything humans do. Consequently, her teaching emphasizes the application of psychological theory/research.
Bridget is the co-author of a cognitive psychology textbook, which emphasizes the importance of both research and application. It is currently in its 3rd edition.
While her scholarship has focused mainly on the scholarship of teaching, she does conduct research with students. She tends to work with students on projects of their choosing as long as it is within her specialty area (cognition). Recent projects include: the effects of yoga/mindfulness on working memory/attention in the elderly; and the role of emotional sensitivity in source monitoring of negatively valenced material. She loves learning about new areas of research and enjoys learning along with the student.
Selected Scholarship
Robinson-Riegler, M.B., and Robinson-Riegler G.L. (2004, 2008, 2012). Cognitive Psychology: Applying the Science of the Mind  Boston, MA: Allyn & Bacon
Robinson-Riegler, G.L, and Robinson-Riegler, M.B. (2004, 2008, 2012) Instructor's Guide to accompany Cognitive Psychology: Applying the Science of the Mind . Boston, MA: Allyn & Bacon
Robinson-Riegler, M.B. and Robinson-Riegler, G.L.(2004). Readings in Cognitive Psychol0gy: Applications, Connections, and Individual Differences. Boston, MA: Allyn & Bacon
Education
B.S. Indiana University
M.S. Purdue University
Ph.D. Purdue University
Frequently Taught Courses
PSY 400 – Keystone Internship
PSY 354 – Cognitive Psychology
PSY 105 – Principles of Psychology
Profession Association
American Psychological Association
American Psychological Society
Research Interests
Prospective memory in the elderly and younger population
Retrospective and prospective memory comparisons
Planning strategies
Age-related effects
Bizarreness Effect