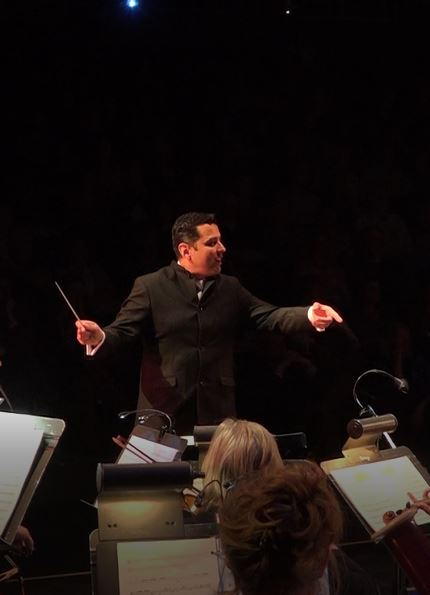 Rafael Antonio Rodriguez is internationally recognized and highly regarded as a conductor and educator. His professional work has taken him throughout the Americas to Peru, Colombia, the Amazon region of Brazil, Bolivia, Mexico, Honduras, and to Costa Rica where he lived and worked for many years before returning to the United States. His debut in Europe was with the Romanian National Opera Orchestra in Constanza in September 2013, with additional performances in Romania and in Bulgaria the following year. Rafael's debut as a professional conductor was with the National Bands of Costa Rica in 2007. He continues to collaborate regularly with wind bands and has recently been featured with the Navy and the Air Force bands of Peru.
While serving as Artistic Director and conductor for the national youth orchestra in the Sistema Nacional de Educación Musical (Costa Rica), Rafael led the Orquesta Sinfónica Manuel María Gutiérrez on an international tour to Mexico including performances at such prestigious venues as the Sala Nezahualcoyotl in Mexico City. He has also performed to sold-out audiences at the National Theatre of Costa Rica, and at the Gran Teatro Nacional in Lima, Peru.
Committed to excellence in teaching and to creating a collaborative musical experience for students and professionals alike, Rafael's background as a jazz pianist and arranger provide an uncommon foundation for a creative and emotive approach to orchestral performance. Equally at home leading a "Big Band" as he is in front of a professional orchestra, his experience as a jazz musician includes leading trios and quartets in southern California as a vocalist, performances at the London Club at the Aladdin Hotel and at the Imperial Palace Hotel in Las Vegas, and international engagements in Costa Rica, Bolivia, and Peru.
Rafael is a graduate of the United States Naval Academy in Annapolis, Maryland. He received the Doctor of Musical Arts degree in Orchestral Conducting & Literature from the University of Colorado Boulder, and holds graduate degrees in Instrumental Conducting (M.M.) and in Education (M.Ed.) from universities in southern California.
For more information, visit his website at www.rafaelantoniorodriguez.com.