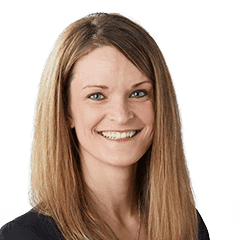 Danielle joined the Augsburg PA program faculty in the Fall of 2020 as clinical coordinator. Danielle has a long history of practicing in urology, currently with HealthPartners. There she works in clinical, hospital, and surgical care with a busy and growing urology group.
Danielle is originally from a small town in Iowa and received her undergraduate degree from South Dakota State University in Brookings, SD in 2007 and her Masters in Physician Assistant Studies in 2009 from Des Moines University. Danielle has always had a desire to be part of a PA program and prior to starting as clinical coordinator, she was adjunct faculty for the program teaching in urology.
In her free time, she loves spending time outside golfing and traveling with her husband and 2 young children. She is excited to be part of the growth and learning of the students in the Augsburg PA program.