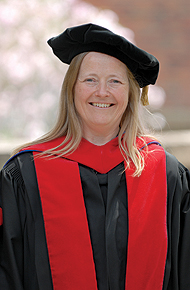 Religious worldviews shape our interactions among people and nations.  Understanding people's faith traditions — in ways that they would recognize — is vital for making sense of political and social structures and for building collaboration across communities to address the significant issues facing the world in our generation.
Augsburg's religion department is particularly strong in the areas of Christian Bible and theology, and our faculty respect all faith traditions, as well as the views of people who challenge and question assumptions about God or who are disinterested in religion.  We seek to help all people know, understand, and appreciate major religious traditions and to foster spiritual growth among individuals who seek it.
I want to challenge and support students to take responsibility for their own learning, to ask and explore questions that really interest them, and to learn from one another. I design my courses to help students to develop those skills and values.
Several students in my Spring 2008 section of REL 200 embraced the challenge of doing research and presenting their learning about "Getting Involved at Augsburg and in the Twin Cities" as part of Augsburg's participation in the nationwide "Focus the Nation" event.  For a time, their work was linked to Augsburg's Environmental Stewardship web page, which made them (and me) proud.
Current scholarly interests include First-Year Programs, Learning Communities, Teaching Excellence, and Old Testament.
I love to travel, walk, read, play games, and relax in a rocking chair looking out at Webster Lake in New Hampshire, where my family vacations each summer. I have three nearly grown children, and live with my husband in Roseville. I taught college mathematics for 11 years (eight at Augsburg) before teaching religion.
Education
B.A., Boston University
M.A., Boston University
M.A., Luther Seminary
Th.D., Luther Seminary
Honors and Distinctions
ThD Dissertation passed with distinction