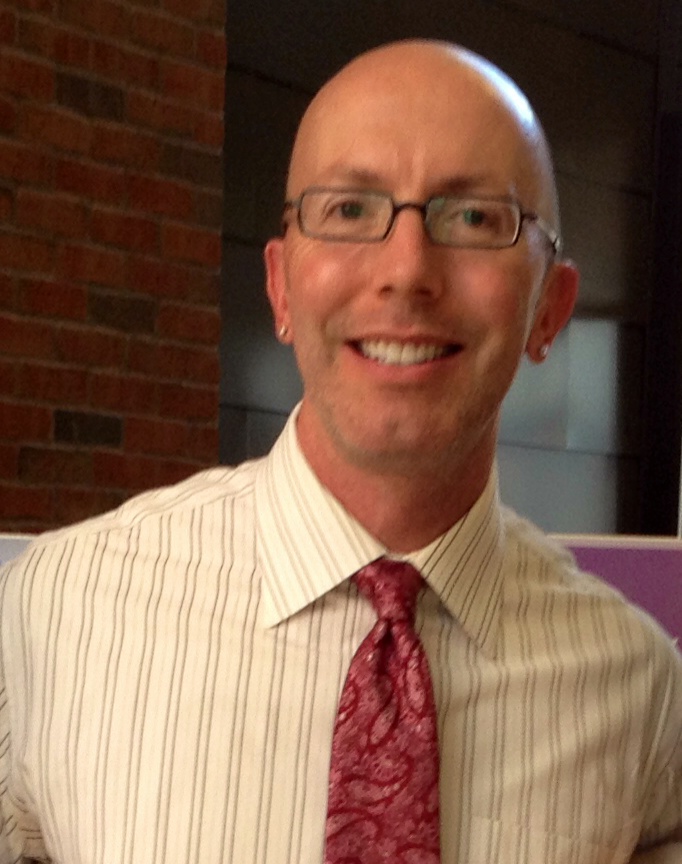 James Vela-McConnell is a Fellow of the Ford Foundation and has been teaching at Augsburg University since the fall of 1997. He received his bachelor's degree, majoring in sociology and minoring in psychology, from Loyola University in New Orleans, graduating at the top of his class in 1990. At Loyola, he received the Dux Sociologicus Award—"Leader in Sociology." James received his master's (1993) and Doctorate (1997) degrees at Boston College, where he also won the Donald J. White Teaching Excellence Award for Sociology in 1996. His areas of specialization are social psychology, social inequality, and qualitative research methodology & feminist epistemology.
James's current research focuses on the sex abuse scandal within the Catholic Church, which he's examining it through the lens of organizational stigma and secrecy. His paper, "Behind Closed Doors: Organizational Secrecy, Stigma, and Sex Abuse within the Catholic Church" was just published in Oppression and Resistance: Structure, Agency, Transformation, volume 48 in the series Studies in Symbolic Interaction. 
Previously, James examined friendships. His essay, "The Sociology of Friendship" appears in the second volume of The Cambridge Handbook of Sociology (Cambridge University Press, 2017). In his most recent book—Unlikely Friends: Bridging Ties and Diverse Friendships (New York: Lexington Books, 2011)—he examines those rare friendships that cross the socially constructed boundaries of gender, race, class, sexual orientation, nationality, religion, and ability.
James's first book is titled Who Is My Neighbor? Social Affinity in a Modern World (Albany: State University of New York Press, 1999). This book was nominated for the C. Wright Mills Award, the highest honor for a sociology book published in the field of social problems. Finally, his master's thesis, "Reflections on the 'Death of Marxism,'" appears in the book What's Left: Radical Politics in the Postcommunist Era (by Charles Derber, et al., Amherst: University of Massachusetts Press, 1995).
Throughout his research endeavors, James makes a point of including students in the process, typically with the support of URGO (Undergraduate Research and Graduate Opportunities) and McNair Scholars Programs here at Augsburg University. The University recognized his efforts in 2012, awarding him the Distinguished Contributions for Excellence in Mentoring and Scholarship—the first and only time the University has granted a dual award.
Professor Vela-McConnell currently serves on the Academic Affairs Committee. His past service includes serving as Chair for the Division of Natural and Social Sciences. He also served on the the Senate Subcommittee on Faculty Personnel Policies for 12 years, co-chairing it for three years and chairing for an additional four years. He chaired the Department of Sociology for six years and has served on numerous search committees as well as the Benefits Advisory Committee. In the larger community, Professor Vela-McConnell served fort two years as the Diversity Colloquium Facilitator for The Collaboration, volunteered for the AIDS Action Committee in Boston for six years, and has been delivering meals for Open Arms of Minnesota since 1999. Most recently, he established The Bridgewater Salon, for which he acts as curator.
James currently resides in downtown Minneapolis with his spouse, Matthew McCright. When he's not teaching, he enjoys reading fiction, traveling, recreational cycling, and flying kites.
Education
B.A. Loyola University
M.A. Boston College
Ph.D. Boston College
COURSES TAUGHT
Introduction to Human Society (SOC 121)
Race, Class, and Gender (SOC 265)
Cultures of Violence (SOC 290)
Social Problems Analysis (SOC 390)
Mental Illness and Society (SOC 395)
Senior Seminar: Keystone in Sociology (SOC 490)