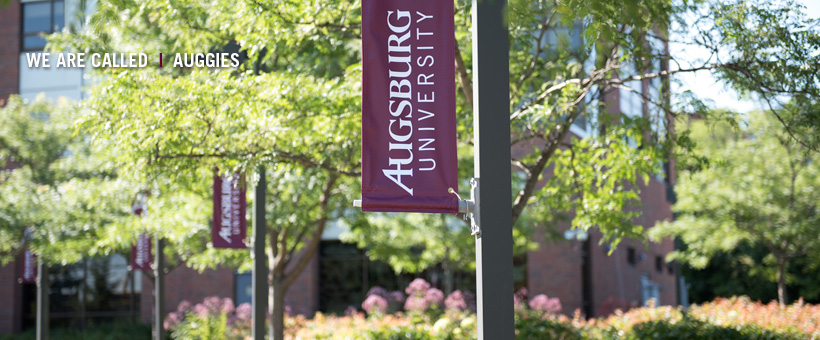 We hope you will join us on campus for any of the following campus visit events this coming year! Please note that registration opens approximately one month before each event.
Saturday, February 8, 9:30 am – 11:45 am
For prospective Juniors
Putting your toes in the water of your college search? Dive in at Junior Snapshot. This day is perfect for getting the basics of the admission and financial aid process, general information on Augsburg University, and a winter wonderland tour of our campus (please note: "winter wonderland" is…aspirational. It might be cold and miserable that day, who knows. Either way, we'll have coffee for you; so come on out!)
Monday, February 17, 8:30 am – 2 pm
For admitted High School Seniors and Transfer students
Now that you've been admitted to Augsburg, you're ready to have the full Augsburg experience. Schedule a one-on-one financial aid appointment, experience academic life, attend our Campus Resource Fair, and have lunch with faculty. And parents (or guardians or aunties or uncles or mentors of any kind) are welcome to attend a panel on how to support your student in this process. For transfer students, transfer credit evaluations will be available in the afternoon, simply bring a copy of your unofficial transcript!
Saturday, February 29, 8 am – 1 pm
Want to learn more about music at Augsburg? Join us for Music Exploration Day. This is your opportunity to meet our instructors, learn more about your individualized opportunities in the music program, and get Q & A time with current music students.  If you are able to stick around into the evening, we'd also love to have you observe or participate in an ensemble rehearsal!
*Can't make it to campus this date? Check out our additional Music Exploration Day on January 24.
Destination: Augsburg
Friday, March 27, 9:45 am – 3:30 pm
For admitted High School Seniors and Transfer students
Being an Auggie means enjoying access to the Twin Cities, so let's show you around. Half of "Destination: Augsburg" focuses on the student life around campus, with Residence Hall Tours, a Financial Aid Q&A, student speakers, etc. And the second half is a "Choose Your Own Adventure," with guided tours of major Minneapolis landmarks. Past destinations have included the Guthrie Theater, US Bank Stadium, Target Field, and a walk around the historic Cedar-Riverside Neighborhood, among others. 
Junior Preview Day
Saturday, May 9, 9:30 am – 11:45 pm
For prospective Juniors
School is almost out, so kick your summer off with a Junior Preview Day visit. Get your overview of Augsburg, as well as the campus tour. Bring your friends and family, all are welcome! 
ADMISSIONS INDIVIDUAL APPOINTMENTS
Looking for a one-on-one visit? You can make appointments here!
Go here to make an individual Senior Campus Visit appointment
Go here to make an individual Junior Campus Visit appointment
Go here to make an individual Transfer appointment