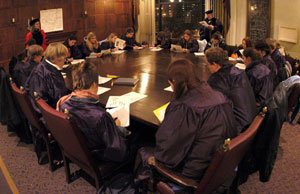 The objective of Medieval Studies is to introduce students to the culture of the Middle Ages—its diverse history and beliefs, its arts and literature, its legacy to the modern period —and to the disciplinary and interdisciplinary skills necessary for its serious study.
Minor Requirements
LAT 101 and 102 are highly recommended given that Latin is the universal language of the medieval period.
Five courses are required, including HUM 120 and one course each in literature, religion/philosophy, and history of arts, and one elective.
HUM 120 – Medieval Life in 12th-Century Europe

One of the following literature courses:

ENL 330 – Shakespeare

ENL 360 – The Classical Tradition

ENL 361 – The Medieval World

SPA 352 – Survey of Spanish Literature I

One of the following religion or philosophy courses:

HIS 378 – Pilgrims, Popes, and Penance: History of the Medieval Church

PHI 242 – History of Philosophy II: Medieval and Renaissance Philosophy

RLN 342 – Martin Luther and the Reformation

One of the following history of arts courses:

ART 386 – Medieval Art

ART 387 – Renaissance and Baroque Art

MUS 231 – History and Literature of Music, Antiquity to 1750

THR 361 – Theater Histories: Origins to 1800

One of the following elective courses:

HIS 369 – The Early and High Middle Ages

HIS 370 – The Late Middle Ages to 1648

HIS 374 – War and Religion in the Medieval Context

HIS 440 – Topics in World History: Monks and Heretics (this topic only)

POL 380 – Western Political Thought

SPA 331 – Spanish Civilization and Culture
---
For a complete list of courses and descriptions, see the Course Description Search.