For more than four decades, Augsburg University has ushered in the Advent and Christmas seasons with Advent Vespers, a magnificent experience of music and liturgy, focusing on the theme of preparation and culminating in the joyful celebration of the Incarnation.
42nd Annual Augsburg University Advent Vespers
"Angel Voices, Again Now Sing" – A Virtual Service, Friday, December 3, 2021 – 7 p.m.
Advent Vespers, Virtual Premiere Link - CLICK HERE
(Note: A link for the Advent Vespers video, with Audio Description, will be added here on 12/3 after the premiere)
---
Support Us
In this holy season, you are invited to support the efforts embodied in this year's Augsburg Advent Vespers:
Or donate today via Give To The Max (November 1-18)
---
Mark Your Calendar
For all of these additional Advent Vespers events and dates!
Nov. 23, Advent Vespers Daily Devotional Booklet Released
Nov. 29, Virtual Advent Vespers – Watch Page NOW LIVE
Set a reminder on YouTube and share the link directly with family & friends!
Advent Vespers, Virtual Premiere Link - CLICK HERE
Nov. 30 at 11:30 a.m. – Chapel Service
Lessons and Carols Service (video)
In-person, Hoversten Chapel
Dec. 1 at 10:40 a.m. – Chapel Service
President Paul Pribbenow: The Advent of God's Time (video)
In-person, Hoversten Chapel
Dec. 3, 6:30 p.m. – Augsburg Campus Community Watch Party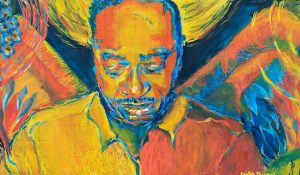 Come together to celebrate Advent Vespers as an Auggie Community!
Open to Augsburg Students, Faculty & Staff
Light snacks and beverages will be provided
Free, RSVP suggested, (there's still room!)
We invite you to donate an item to the Augsburg-Central Health Commons – Details & suggestions are included with the RSVP link
---
About the Artist, Emily Duesing '20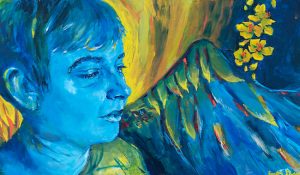 Emily is a two-dimensional portrait artist who investigates empathy through monochromatic portrait painting. Emily currently lives in Minneapolis and is a recent graduate from Augsburg University where she pursued her bachelor's degree in both psychology and studio art. Emily has received several honors and recognitions for her work including the Normandale Purchase Award, Augsburg's Fine Arts Scholarship, numerous juried shows.
---
42nd Annual Augsburg University Advent Vespers
The Music Department and Campus Ministry Office of Augsburg University are pleased to announce the 2021 Advent Vespers theme, "Angel Voices, Again Now Sing." For a second year, we will usher in Advent with a virtual experience and a premiere video release party the first weekend of December.
The agonizing decision to present a virtual Vespers was made for a host of reasons centered on safety and feasibility as we emerge from this pandemic, including concern for the vulnerable among us, ever-changing guidelines regarding enclosed spaces and musical performances, unknowns regarding choral and instrumental practice spaces on campus in the fall term, and the likely limitations of seating and fellowship space at Central Lutheran Church.
We look forward to a live experience in 2022. In the meantime, the Advent Vespers planning team will endeavor to create a fresh virtual experience that will articulate the message of the Advent season through music, word, and song. May the sweetest angel voices stir us to rejoice in the Advent of our God.
Interested in learning more about our decision?
Check out this Document or contact any of the Advent Production Team Members
---
Additional Questions About Advent Vespers
Feel free to contact the Music Office directly at vespers@augsburg.edu or 612-330-1265