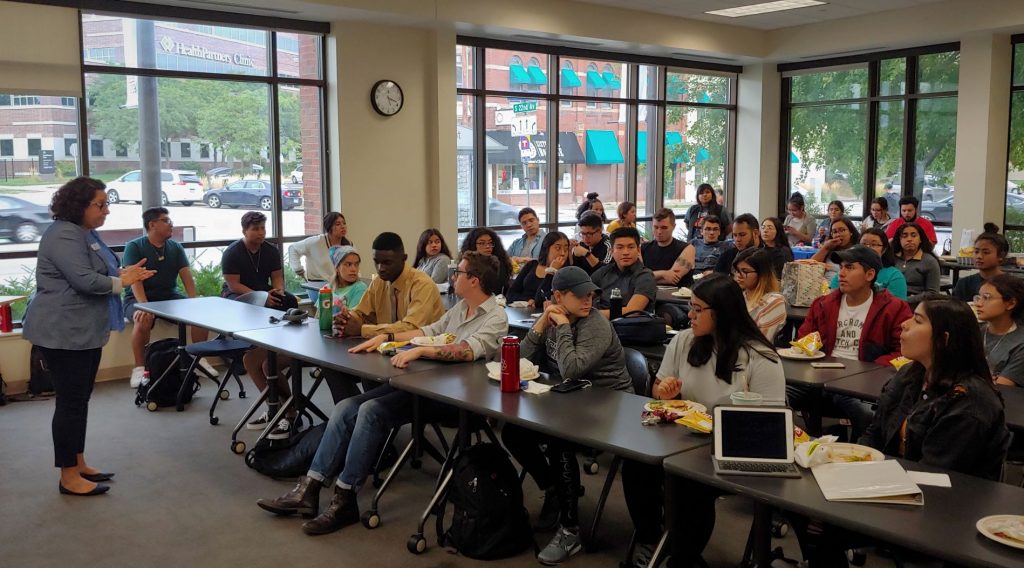 Career Readiness and Professional Development Programs Launched this Fall
Augsburg University's Clair and Gladys Strommen Center for Meaningful Work is leading the way in preparing and empowering a diverse group of future workers through critical career readiness programs to meet the demands of employers. In 2018, Augsburg University President Paul Pribbenow and the Board of Regents launched the Strommen Initiative to usher in a new era of career services that builds on the hallmarks of a liberal arts education. The 21st century workplace is looking for candidates who think critically, work in teams, process information, communicate across differences and cultures, and are technically proficient. These skills are attained by every liberal arts student during their undergraduate studies. However, new integrated systems of learning that connects the student experience in and outside of the classroom to career readiness are necessary to ensure acquisition of professional skills, understanding of potential professional pathways, and organizational fit. The career center is transforming into an agency that creates partnerships and programs to ensure professional development is fully integrated. 
Through a grant from the Wells Fargo Foundation, the Strommen Center is launching two campaigns, Augsburg Works and Auggies Explore, during the 2019 and 2020 academic year focused on internships, post academic employment, and career exploration.
Augsburg Works
71% of employers are hiring now for 2020 interns and employees, Augsburg Works helps students understand recruiting timelines for 2020 jobs and internships as well as connect them to the career readiness programs they will need to be successful candidates. 
Highlights of Augsburg Works
Resume Round-Ups to assist students in developing their resumes.

Events happening during Fall 2019 to prepare students for jobs and internships

Part-Time and On- Campus Job Fair to connect students to employment and professional opportunities on and off campus.
3M Innovation Center Site Visit to hear from a panel of professionals on what it's like to work in technology at 3M.
Latinx Professional Panel hosted by Augsburg's Latin American Student Organization to hear about navigating careers as a Latinx professional.
Intro to Resumes hosted in partnership with Augsburg's Trio programs to support students who are developing their first resume.
Accounting and Auditing Conference connecting students to professionals and opportunities in financial services. 
On-Campus Career and Internship Fair connecting nearly 200 students with 38 employers to secure 2020 jobs and internships.
Employer info sessions held in classrooms to help students understand organizational culture, recruiting timelines, and tips on applying for positions. 
Twin Cities Startup Week Job Market connecting students to entrepreneurs and local startups to find internships and jobs.
Speed Mock Interviews to help prepare students for their job or internship interview.
Queering Career in partnership with Augsburg's LGBTQIA+ student services hear from a dynamic panel of LGBTQIA+ professionals about their professional journeys as queer identified people.
Minnesota Department of Human Services providing panelists from a variety of human services fields to speak to students about careers in this sector. 
Government and Nonprofit Job Fair connecting students to jobs and internships in these sectors.
Professional Networking hosted by Augsburg's Latin American Student organization in partnership with UpTurnships.
Internship Peer Panels with students who have completed successful internships hosted by Augsburg's Business Organization and in partnership with UpTurnships
Auggies Explore
We also know that 61% of employers want to hire employees with relevant work experience. The second part of Strommen's new campaigns is Auggie Explores which focuses on career exploration and helping students understand potential career pathways. Career exploration is a critical component to the career readiness journey. According to a recent Gallup report that surveyed over 2,020 college students, 637 hiring managers, and 1,037 parents, it was reported that students wait too long to begin their career exploration. 82% of respondents noted that it is important that their work fits with their values. Gallup also found that employees with a high sense of purpose are more productive. 
Auggies Explore is a spring initiative to help students learn about companies, career opportunities and pathways, and connect to professionals in the field. This program also provides companies with an opportunity to educate students on the culture, values, and opportunities within the organization. 
Upcoming Events:
Augsburg students will be travelling to Chicago for the  United States Hispanic Leadership Institute (USHLI) National Conference to network with professionals and students from across the United States. 

Alumni will be hosting students from Augsburg's Business Organization in Chicago over spring break and speak to them about their careers and professional journeys.

Augsburg's LGBTQIA+ student services will be bringing students on a number of site visits to queer owned businesses to speak with entrepreneurs about their business and career.
And there is more to come! The Strommen Center is excited to be working with employers on additional programming for students to help them explore careers in many industries and sectors.