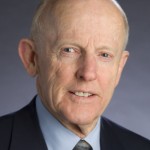 Stanley Hubbard, the chairman of Hubbard Broadcasting will headline the fifth annual Clair and Gladys Strommen Executive Speaker Series for 2014-2015. The purpose of the series is to bring local business leaders to the Augsburg campus to share their insights and expertise with students, alumni, and the general public. The Series is offered three times annually, and has featured Doug Baker, CEO of Ecolab; Richard Davis, CEO of US Bancorp; Chris Policinski, CEO of Land O'Lakes, Mary Brainerd, CEO of HealthPartners and many others. The program begins at 5 p.m., November 13, 2014 in the Sateren Auditorium. All are welcome to a networking reception immediately following Hubbard's presentation, hosted in the Christensen Center.
Hubbard will speak about his vision for broadcasting and expand on his lifetime of success in broadcasting: "Success from any angle: lessons learned from a lifetime in broadcasting." For more than 80 years, Hubbard Broadcasting has stayed on the industry's cutting edge, pioneering innovations in radio, television, and satellite broadcasting. Hubbard Broadcasting owns 13 television stations serving Minnesota, New Mexico, and New York, and 30 radio stations in Washington D.C., Chicago, Minneapolis/St. Paul, Seattle, Phoenix, Cincinnati, and St. Louis. Mr. Hubbard is also active in community and broadcasting affairs. He serves on the Board of Trustees of the University of St. Thomas, the Board of the University of Minnesota Foundation, and the Board of Visitors of the University of Minnesota Medical School.
Register for this event by calling, 612-330-1720, email scherera@augsburg.edu, or register online at our Events page.