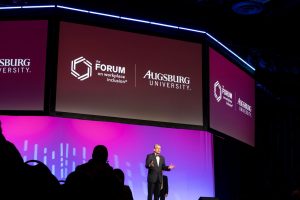 On March 11, Augsburg's President Paul Pribbenow spoke at The Forum on Workplace Inclusion's 32nd annual conference, "Facing Forward." The session was called Hospitality is Not Enough: An Institutional Journey from Diversity to Inclusion to Equity.
Pribbenow shared the story of Augsburg's journey with our many concrete implications for policy and practice, including efforts to make higher education more accessible to diverse students, internal work to build intercultural competencies, and governance strategies that position Augsburg as a thought and practice leader in the DEI (Diversity, Equity, and Inclusion) space.
"Augsburg University is one of the most diverse private colleges in the Midwest and proud to partner with The Forum to help expand diversity, equity, and inclusion skills, so our students can fully participate and succeed in the workforce," said Pribbenow. "We're on the front edge of what education will look like in the 21st century."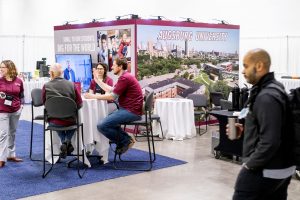 A record-setting 636 undergraduate first-year students started at Augsburg last fall. The Class of 2023 marks the third year in a row in which the majority are students of color. Augsburg now has 2,159 students in the traditional undergraduate program, which is also a record for our university.
"People were really impressed with Paul's presentations at the opening general session and his Hospitality is Not Enough session. A lot of people came by Augsburg's booth and talked about Paul's presentations. They didn't know about Augsburg, didn't know about all of our impressive work," said Lee George, Executive Director of the Strommen Center for Meaningful Work.
This year's conference focused on equipping the workforce and workplaces with the diversity, equity, and inclusion skills needed to sustain businesses into a forward-facing future that is innovative on both local and global levels.
George, along with other Augsburg volunteers, talked with employers and Human Resource representatives about our recruitment practices over the last ten years. "Augsburg had to think through our recruitment and expand, now employers are looking at how to elaborate to reflect our global economy. Augsburg really resonated for employers," said George.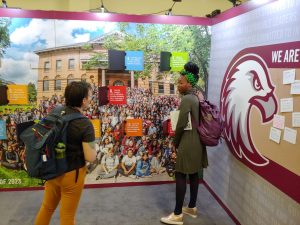 Forum participants were invited to engage with our 2023 student class picture, which had quotes from students about their hopes and fears for the future. Participants wrote responses to be shared with the students.
Hana Dinku, Augsburg's Director for the Pan-Afrikan Center, hosted multiple sessions at The Forum. "I was pleasantly surprised at The Forum," she said.
One session Dinku hosted stood out to her: Journey Beyond the Comfort Zone: Designing and Facilitating Transformative Learning Experiences for Leaders. "The session was about how to be aware of people's stress levels when doing diversity training. It was interesting to look at this through an emotional lens, how to be effective and aware of people's stress and stop them from shutting down," said Dinku.
The conference featured more than 70 sessions, three general sessions, more than 180 presenters and speakers from around the world, along with the Marketplace of Ideas exhibitor space. The DEI Coaching Center was also available, where DEI professionals provided coaching for attendees to apply when returning to the workplace.
Steve Humerickhouse, Executive Director of the Forum on Workplace Inclusion, spoke with the Star Tribune about how the Twin Cities is becoming one of the largest hubs for workplace diversity and inclusion.
"Part of it comes from our belief in Minnesota exceptionalism. Maybe it's in the water here. It's something about commitment to issues of diversity and equity. This is why refugees come here, why international adoption began here. This is a place where people feel deeply about issues," said Humerickhouse. "At the Forum, we're about workplace inclusion, but there is nothing that happens in the workplace that isn't affected by society at large. We talk about people who have committed felonies and what that means in terms of hiring when they get out of prison. We talk about unconscious bias. It's easy to exclude people because we're tribal. We are the way we are for a reason, but how do we overcome that?"
About The Forum
For 32 years, The Forum has served as a convening hub for those seeking to grow professional leadership and effectiveness skills in the field of diversity, equity, and inclusion by engaging people, advancing ideas, and igniting change. The annual conference is HRCI and SHRM Continuing Education Credit (CEU) eligible.
Augsburg University became the new home of The Forum on Workplace Inclusion in July of 2019. We have been on a journey during the past decade to become an institution that embraces diversity, works at inclusion, and seeks equity. It is a journey with lessons for other higher education institutions, as well as other organizations.