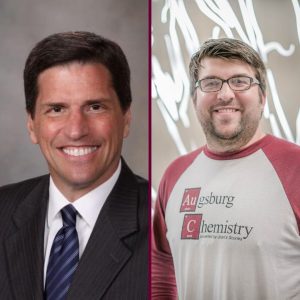 This week, we are looking forward to two Facebook live events with Dr. Paul Mueller '84, Regional Vice President for Mayo Clinic Health System, and Dr. Michael Wentzel, Associate Professor of Chemistry.
Dr. Mueller will be in conversation with President Pribbenow on Tuesday, April 21 at 5 p.m. CT to discuss how the Mayo Clinic Health System has been responding to COVID-19 and the research being done in that area.
Then on Thursday at 8 p.m. CT, we invite you to join us for a beer or nonalcoholic drink to hear about "The Art, History, and Science of Brewing" and how it relates to the liberal arts education with Dr. Wentzel and Chris Bogen '09.
About Dr. Paul Mueller '84
Dr. Mueller has been a consultant in general internal medicine for Mayo Clinic since 1998 and chaired that department 2009-2018. He is a professor of medicine and biomedical ethics for the Mayo Clinic College of Medicine and Science. In January 2019, Dr. Mueller was named a Fellow of The Hastings Institute, an internationally-renowned center for bioethics. Dr. Mueller has authored or co-authored more than 120 peer-reviewed publications and hundreds of book chapters, abstracts, letters and columns. He is an associate editor of the New England Journal of Medicine. Paul is a Regent Emeriti of Augsburg University, is a past chair of Augsburg's Board of Regents and currently serves as Chair of Augsburg's Great Returns campaign.
As an organic chemist, I am interested in developing new synthetic reaction methods. I was trained as an organometallic chemist using transition metals to develop new catalytic methods. These methods involved nitrogen containing heterocycles and boronic acids as well as C-H and C-C sigma bonds. I have been at Augsburg since 2013 and worked here part-time before that while doing graduate and post-graduate work across the river at the University of Minnesota-Twin Cities. I am passionate about teaching and mentoring in the classroom, laboratory, and in research settings. I have been influenced greatly by my own liberal arts education and the wonderful professors I was able to learn from and work with. I appreciate that we train our students to be strong chemists with a sense of purpose and service to others.
My research group is focused on the development of green synthetic methods. Currently, we have projects using a heterogeneous catalyst in a flow system, silylation of amines for alkylation, and the synthesis of biodegradable polymers for the educational laboratories. The polymer research has been done in collaboration with the University of Minnesota-Twin Cities NSF-funded Center for Sustainable Polymers. Finally, I am extremely proud of the success of all my former group members as they continue to be successful following graduation in their lives.