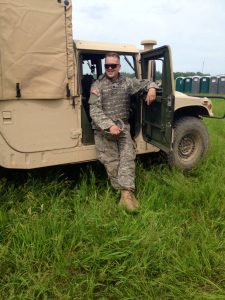 Jon Dahl has many roles in life. He's a husband, father, screenwriter, director, marathon runner, and a Captain and Logistics Officer for the Army National Guard. His current role as Contract Specialist in the National Guard is what is keeping him extra busy right now, during the COVID-19 pandemic. As a Contract Specialist working for the U.S. Property and Fiscal Office, Jon is one of a dozen people in Minnesota authorized to recommend federal vendors, vendors who usually bid on government contracts, to fulfill the State of Minnesota's medical supplies needs.
Dahl joined the National Guard and went to basic training in 2004, commissioned as an officer in 2007 and still serves today. In his time since joining, his favorite job was contracting for Moral Welfare and Recreation in Camp Buehring in Kuwait in 2018. It allowed him to indulge in his love of movies and entertainment while stationed in Kuwait.
"If it wasn't in Kuwait, I'd still love to be doing that job," Dahl says.
Dahl worked with the USO and MWR, the restaurant and clothing vendors, the movie theater, basically all the entertainment directorates at Camp Buehring. He was also in charge of all the talent who visited camp, including The Couples of Comedy, the Blizzard Call of Duty team, and the band Joyride.
Now, Dahl spends most of his day processing vendor offers to get medical supplies to Minnesota during the current pandemic. He leverages the federal system – System of Award Management – to manage vendors around the world who are interested in selling medical equipment to the State of Minnesota. And the items Dahl is working hardest to get are Nitrile Gloves; N95, BiPap, PAPR, and disposable face masks; face shields; and medical gowns, hoods, and coveralls.
"3M, Boston Scientific, there are lots of large Minnesota businesses we're talking to in order to get medical supplies," Dahl says. "There are a lot of local people doing a lot of things!"
Unfortunately, there are also a lot of criminals trying to take advantage of the high demand for medical equipment, so Dahl is working extra hard to make sure legitimate vendors are selling correct supplies to the state government. After sorting through hundreds of offer sheets each day, Dahl picks the top vendors based on delivery schedules, terms, and price. He then checks with state and federal databases to make sure the vendors have a clean record and are quality vendors. Once verified, Dahl recommends vendors to the state and negotiates specifications to make sure the vendor and their product fit what Minnesota needs right now.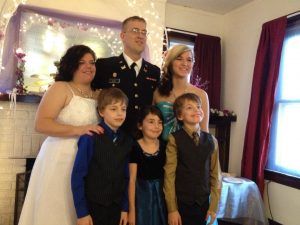 Most of the time, Dahl is able to work from his home in Big Lake, where he lives with his family. When he needs to go into the office, he drives to Camp Ripley or to the State Emergency Operating Center. His temperature is checked at the door and he's questioned about any symptoms of illness or people he's been in contact with before he's allowed in the facility.
"They're following guidelines because there are a lot of critical people in a closed space," Dahl says. "Overall, we've tripped and fallen through the whole process. But we're tripping and falling forward. We're getting the process done."
Augsburg University
Dahl spent two years at Metropolitan State University, earning second his Bachelor's Degree in Screenwriting, before coming to Augsburg.
"I was looking for a film or screenwriting master's program to apply to just as I was graduating from MSU and Cass Dalglish (the MFA's first director) and her team started up the program at Augsburg. Between meeting her and Stephan Eirik Clark (the MFA's current director), I knew this would be the program for me," Dahl says.
He was part of the Master of Fine Arts in Creative Writing's inaugural cohort, specializing in the Screenwriting program. He graduated in 2016 with the makings of two feature length screenplays. After graduation, he has stayed in contact with a few of his professors, and he is looking forward to the day people can gather in groups again so he can start auditions for one of those screenplays, ironically titled "Matter of the Apocalypse."