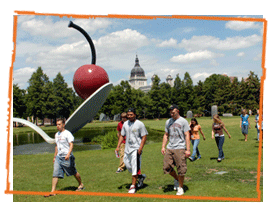 You have a lot of questions: Where will I live? What will I do on the weekends? How will I make connections with other Auggies?
If you want to know what being an Auggie is really like, we think you should learn about it from one of us. Check out Homemade, a page made for students by students.
Get involved on campus
Explore the cities
When you're ready to venture off campus, you'll find we are just minutes from lots of great places — downtown, Uptown, and Dinkytown (at the U of M) to name a few! We're also near several lakes and parks and a short train ride from the international airport and the Mall of America. If you're into the arts, the world-renowned Guthrie Theater is blocks from campus and the Walker Art Center (home of the famous "Spoonbridge and Cherry") is just on the other side of downtown. There are many other museums, great clubs, and several professional sports venues close by as well.
Don't have a car? You don't need one! Getting to and from campus is easy with Metro Transit buses or the Hiawatha Light Rail.